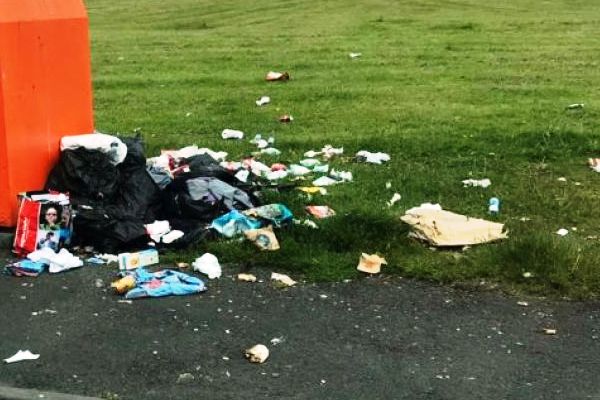 Ireland's towns have become more littered since the start of the covid-19 pandemic, according to a new IBAL survey.
Kilkenny remains the cleanest town in the country, with two Dublin areas named the biggest litter blackspots.
Its "pristine condition" helped it to pip Killarney, Ennis and Tullamore to top spot, with each cleaner than European norms.
For the first time in 13 years, less than half the towns surveyed were deemed clean.
Dublin's north inner city and Ballymun were the only seriously littered locations noted.
IBAL surveyors said more glass bottles and cans were found thrown away as pubs were closed.
There was also a further rise in PPE-related litter in the second half of this year – primarily masks.
Litter levels rose in 24 of the 37 towns and cities inspected at the end of 2020, with only 17 being deemed to be clean.
Fewer than half of towns and cities now 'clean' – first time since 2007
Sharp increase in coffee cup litter alongside PPE masks
Kilkenny tops 2020 litter league rankings
Councils failing to clean up heavily littered sites
IBAL spokesperson Conor Horgan said:
"Covid is clearly a factor here, but we should never accept litter as inevitable."
"It comes down to people disposing of their waste without regard for their surroundings or their fellow citizens and it is entirely unnecessary."
Among the worst sites were Dry Dock in Dublin's IFSC, Balbutcher Lane in Ballymun, where "there was litter everywhere".
Conor Horgan said: "With restrictions on time and resources, local authorities need to be more selective in their cleaning efforts," says Mr Horgan. "Too many sites are persistently littered. It is disheartening that yet again our work in reporting them is falling on deaf ears."