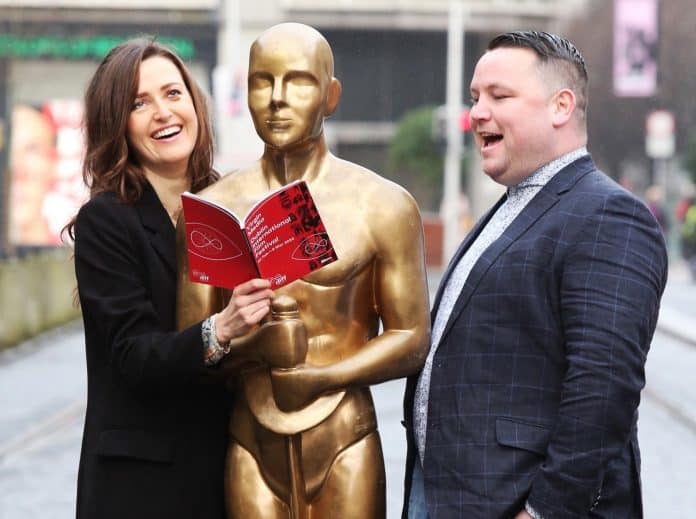 A 12 day extravaganza of movies and an opportunity to see the very best of world cinema and film talent in Dublin was announced today, at the unveiling of the Virgin Media Dublin International Film Festival 2020 programme by John Connors and Clare Dunne.
The Opening Night Gala will see the Irish premiere of Vivarium starring Jesse Eisenberg and Imogen Poots. This compelling sci-fi suspense thriller centred on a young couple looking for a starter home is steeped in satire on suburbia and parenthood.
Barry Keoghan (who lived with our Lucy Kennedy) and 2020 BAFTA Rising Star Award nominee Niamh Algar will walk the red carpet for the screening of Calm With Horses, the hugely anticipated feature debut from award-winning short filmmaker Nick Rowland with a screenplay by Joseph Murtagh.
Also coming to Dublin will be acclaimed Danish filmmaker Lone Scherfig, who will be joined by actor Bill Nighy at the screening of her modern fable, The Kindness of Strangers, set over one tough winter in New York.
Speaking about the DIFF 2019 programme, Gráinne Humphreys, Festival Director said:  "This year we have a stellar line-up of World and Irish cinema accompanied by some of the most dazzling international and home grown film talents. We invite our audiences, known for their love of film to dive right in for the next 12 days and nights and discover different cultures, stories, worlds, points of views – be entertained, engaged, included. We're delighted to be working with Virgin Media in year two as the festival's title sponsor."
The full festival programme may be downloaded on: www.diff.ie