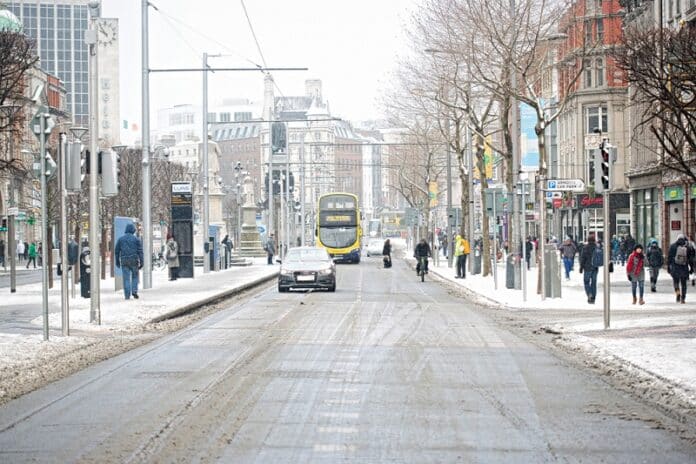 Met Éireann is briefing local authorities that significant snow fall is expected next week, bringing us Beast from the East 2.0.
A cold front from Siberia will move in from the east and will meet a low pressure system that will result in snow, with the worse weather expected on Wednesday and Friday next week.
The weather forecaster is predicting severe frost and ice from this Sunday into early next week with sleet and snow also being forecast.
Extremely cold conditions, along with widespread frost and ice are expected on Sunday night where temperatures could fall to as low as -3.
Alan O'Reilly from Carlow Weather has said we could see a repeat of Storm Emma which was dubbed Beast from the East.
"So the potential there I suppose will be in some ways similar to what we saw with Storm Emma, where you have a low system that comes and meets the cold air and stalls and you end up with high accumulations of very heavy snow extending into most areas."
Nationwide disruption is expected from Wednesday onwards.
Cathal Nolan, founder of Ireland's Weather Channel is expecting the worse snowfall to hit on Wednesday and Friday next week.
"We're keeping a very close eye on two particular systems that were picked up by various weather models."
"They seem to bring a spell of more prolonged and organised snow into the country, certainly on Wednesday and then the models did pick up on a similar event occurring on Friday."
He added "If they continue to play out over the course of the coming days as they have done… then certainly there does exist the potential for a snow event next week on par with that experienced in 2018."
Beast from the East in 2018 caused havoc around Europe. In Ireland, people were urged to stay indoors as gales went up to 100km/h.
All flights from Dublin and Cork airports were cancelled as was most forms of public transport.
The snowfall was so intense that there was one incident where Gardaí asked a woman to place her handbag on top of her car so they could locate her.
The most notorious event from that extreme weather period was the Lidl in Fortunestown in Dublin being looted with a mechanical digger, leading to the store being destroyed and eventually reconstructed.
Water restrictions were also put in place due to the serious pressure on reserves. This led to apocalyptic scenes in supermarkets as shelves were empty as people hoarded bread and water.