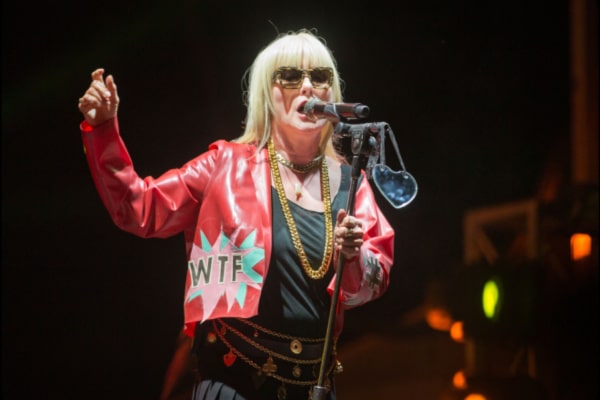 Blondie have confirmed that upcoming release of their first ever historical box set 'Blondie: Against The Odds 1974-1982′.
The boxset will arrive on August 26 via UMC and the Numero Group. It can also be pre ordered here. It will contain 124 tracks, including 36 previously unissued recordings.
The box set will also feature original analogs that were cut to vinyl at London's famous Abbey Road Studios.
The boxset itself is also available in four formats. These formats include Delux 4 LP, Super Deluxe Collector's Editions, Deluxe 8CD, and 3CD editions.
The first six Blondie albums will also feature in this boxset. This includes 'Blondie' (1976), 'Plastic' (1977), 'Parallel Lines' (1978), 'Eat To The Beat' (1979), 'Automerican' (1980), and 'The Hunter' (1982).
If that was not enough, fans can also get their hands on extensive liner notes Erin Osmon, and track by track commentary from lead singer Debbie Harry.
The box set also includes commentary from Jimmy Destri, Nigel Harrison, Chris Stein, Jimmy Destri, Clem Burke, Gary Valentine and Frank Infante.
Essays from producers Richard Gottehrer, Mike Chapman, and Ken Shipley also feature, along with hundreds of period photographs, and illustrated discography.
The box set even contains Blondie's previously unreleased recording of the Door's track 'Moonlight Drive'.
"excited about the special collection"
Regarding the boxset, Debbie Harry released this statement.
"It really is a treat to see how far we have come when I listen to these early attempts to capture our ideas on relatively primitive equipment", she said.
"Fortunately the essence of being in a band in the early '70s held some of the anti-social, counter culture energies of the groups that were the influencers of the '60s. I am excited about this special collection. When I listen to these old tracks, it puts me there like I am a time traveler. As bad as it was sometimes, it was also equally as good. No regrets. More music".
The Blondie lead singer also added, "I am hopeful that this project will provide a glimpse into the 'process' and some of the journey that the songs took from idea to final form," guitarist Chris Stein said. "Some of this stuff is like early sketches; the old tape machines are like primitive notebooks. The trickiest thing for me was always about getting the melodies out of my head into reality and the changes that would happen along the way".
"It is amazing that after all this time, and against the odds, our Blondie archival box set will finally be released. It's been a long time coming and we are all very happy and excited with the final results", Clem Burke added.
"From the moment I walked into Chris Stein's barn and saw a wall of tapes I knew we were on the precipice of something extraordinary," producer Ken Shipley said. "'Against The Odds' is a treasure chest disguised as a box set".