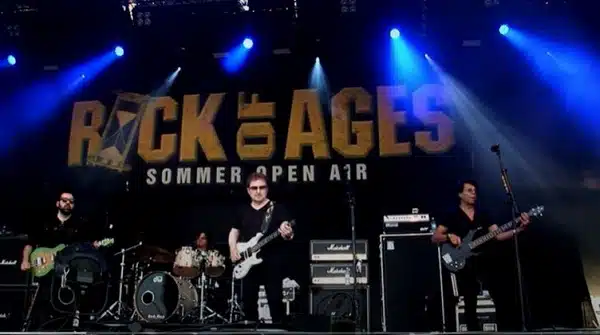 BÖC and Frontiers Music Srl are continuing their release of archival treasures from the band's vault. December 4th will see the release of Live At Rock Of Ages Festival 2016 on CD/DVD, Blu-ray, and double LP. The label will also reissue A Long Day's Night on the same date, but not in North and South America.
On the second day of the Rock Of Ages festival in Seebronn, Germany, the band played an inspired set. This is one few appearances of BÖC in Germany, in the past few years. In just a few weeks, the incredible set will be available to enjoy from the comfort of their own home.
BÖC kick off a memorable performance with This Ain't The Summer Of Love and close with (Don't Fear) The Reaper. Burnin' For You, Golden Age Of Leather, Then Came The Last Days Of May and Godzilla are other amazing performances.
BÖC to release another live show, from 2002
The A Long Day's Night album is also due for reissue. The album was recorded live on June 21st, 2002 at the Navy Pier / Skyline Stage in Chicago. At the time, A Long Day's Night celebrates 30+ years of incredible music from BÖC. This release truly highlights the band's phenomenal career up until that point in time.
The album originally came as a CD and DVD. Now, the live show is coming out CD/DVD, Blu-ray, and vinyl! Restoring and remastering this album to release on all formats achieves a stunning new listening experience.
A Long Day's Night's title came from taking place during the summer solstice (longest day of the year).
Highlights of the BÖC release include over two hours of concert, rare interviews, behind-the-scenes coverage, fan interviews, bio and discography information.
Check out behind-the-scenes with the producers of the 2020 reissue in the video below. They describe the process of restoring and remastering the BÖC 30th-anniversary show from Chicago in 2002.