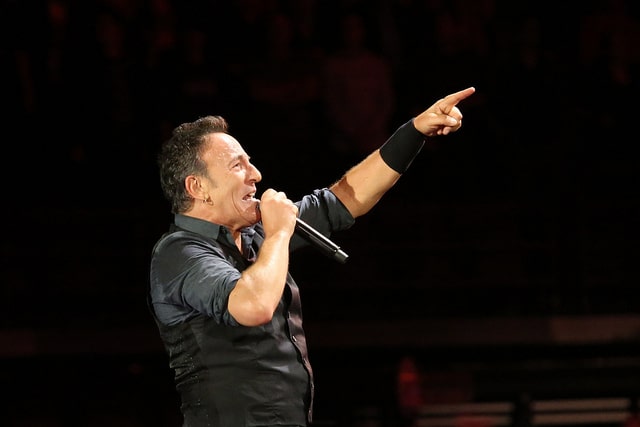 Bruce Springsteen has took to Twitter to sadly correct a report that the E Street Band would be hitting the road in 2019.
During "The Boss's" recent chat with London's The Sunday Times he mentioned that once his Springsteen On Broadway run ends he would be going back to his "day job."
But Springsteen has now set the record straight by tweeting exactly what he meant, saying "Just a note to quell some of the rumors on E Street. While we hope to be back with you soon, the E Street Band won't be touring in 2019. Before I go back to my day job, the year will be consumed with a break after our Broadway run and various recording projects I've been working on. All Love And Happy Holidays."
A statement from Bruce Springsteen… pic.twitter.com/bMqCPWmSaW

— Bruce Springsteen (@springsteen) December 5, 2018
Earlier Nils Lofgren, guitarist with the E Street Band tweeted, "Only the Boss knows," and fellow guitarist Steven Van Zandt chipped in, "We say the same things over and over and over and people choose not to listen. Once again there are no plans for E Street Touring in 2019 right now. Could that change at any moment? Yes. We will try and get an official statement. Maybe that would help. Maybe not! @nilslofgren."
https://twitter.com/StevieVanZandt/status/1069280723582910465
In the interview, The Boss also dismissed the idea that he'll ever run for office, adding that while he has the money and connections to make a political bid a reality, "At the end of the day, you're just a musician with a loud mouth."
The unnamed offering Springsteen refers too in the tweet and interview will be his first studio record release since 2014's High Hopes. and he explained that the album is the culmination of material he was working on back in 2012.
"Really, that record is influenced by Southern California pop music of the '70s. Glen Campbell, Jimmy Webb, Burt Bacharach – those kinds of records."
On December 14th, the soundtrack to Bruce Springsteen's Springsteen On Broadway will be released. The set will be available on four LP's or two CD's — as well as a digital download and on streaming services. Springsteen On Broadway will then premiere on Netflix on December 15th — which coincides with the show's 236th and final show at Manhattan's Walter Kerr Theatre.
Out now is the latest vault release from Bruce Springsteen — with "The Boss" rolling out Leeds: July 24th, 2013 recorded during the E Street Band's show at England's First Direct Arena in Leeds. The show, which features the extended E Street Band following the death of Clarence Clemons and the release of the chart-topping Wrecking Ball album — includes a full horn section, vocalists, and a percussionist — features a healthy does of rarities, including The River outtake "Roulette," a taste of Springsteen's early-'90s solo work with "Local Hero," a dip into the rarely-played outtakes collection, The Promise, with "Gotta Get That Feeling," the early-'70s E Street show-stopper "Thundercrack," "Secret Garden," and such covers as Creedence Clearwater Revival's "Bad Moon Rising," and the Isley Brothers' "Shout."