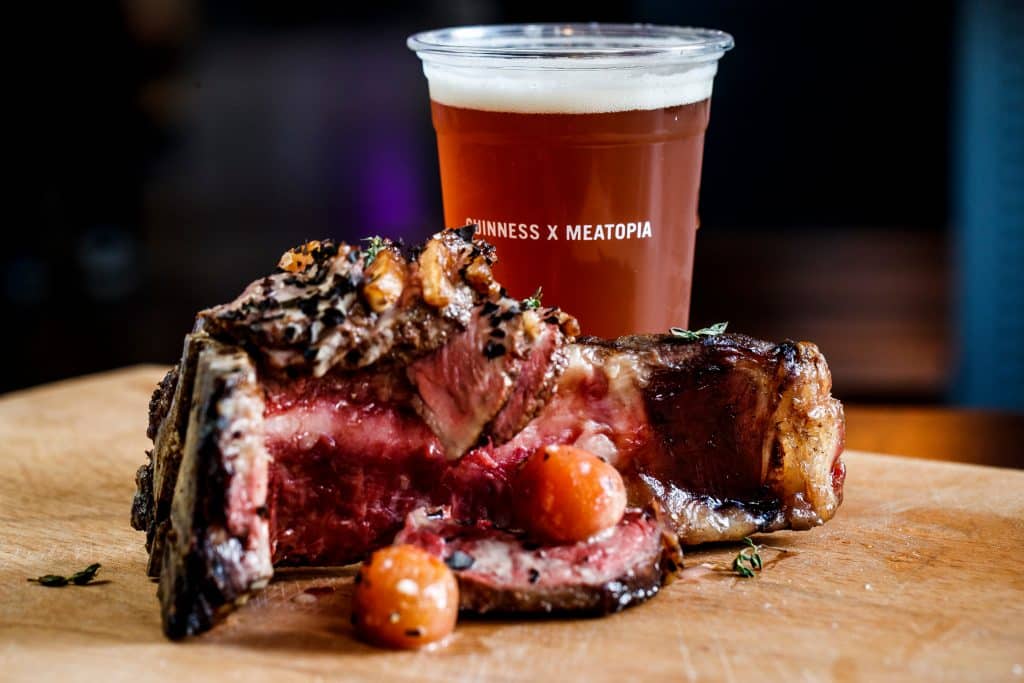 Following a sell out success in 2017, GUINNESS X MEATOPIA will return to the Open Gate Brewery at St. James's Gate in Dublin this summer!
The three day beer and food festival that's like no other, will run from Friday 6th – Sunday 8th July, when GUINNESS X MEATOPIA will take residency in a very special part of the brewery that's home to all beer innovation and experimentation at St. James's Gate.
It will be the second time, Meatopia, the epic London based fired-up food carnival that originated in New York, has come to town. In 2017, GUINNESS X MEATOPIA came to Dublin for the first time and this July hails its return when beer and food lovers from far and wide, will get together again and relish this one of a kind celebration.
Expect all the magic from 2017 and more. Signature dishes grilled or smoked over sustainable wood and charcoal, will be created by some of the world's best live fire chefs and will be matched to the beers brewed especially for the culinary feast. Bringing out the best of the flavours and tastes on offer, Guinness Draught and the exciting beers from the Open Gate Brewery will also find themselves paired with some of these never been tasted before dishes.
Whilst satiating their appetite, festival-goers will get to know the top Irish and international chefs, soon to be announced, plus the brewers and beer sommeliers. In true Meatopia style, they will quickly find themselves amongst a new and wonderful mix of passionate individuals and collectives from the worlds of beer, food and fire.
An eclectic line-up of musicians and entertainers is currently being curated and more details on who's set to perform will be released in the coming weeks.
Tickets for this year's GUINNESS X MEATOPIA with the very best high quality, ethically-sourced food and bold tasting beers will be available to buy from 24 May 2018 at www.guinnessopengate.com/meatopia.
GUINNESS X MEATOPIA will take place on Friday 6th, Saturday 7th and Sunday, 8th July 2018 in the Open Gate Brewery at St. James's Gate, Dublin, Ireland.
Enjoy Guinness Sensibly. Visit www.drinkaware.ie