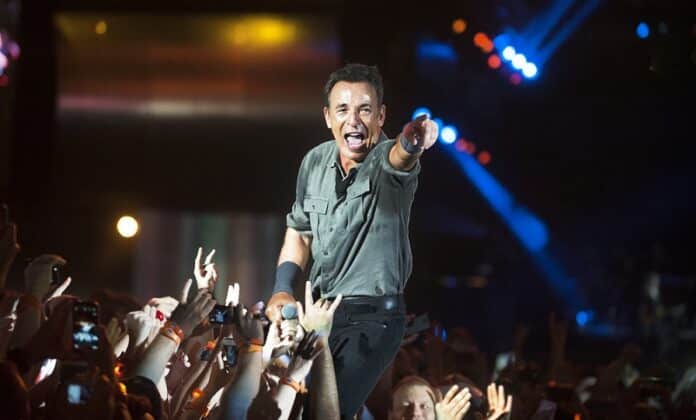 Bruce Springsteen hosted his annual Stand Up For Heroes event last night. Like most events nowadays, it was a virtual one.
Jon Stewart was the host of the benefit and the night begun with him and Springsteen riding on a motorbike together into an empty bar in their native New Jersey. Usually, Springsteen hosts the event in New York's Madison Square Garden.
Springsteen was joined by his wife and bandmate, Patti Scialfa on the first song he performed, 'House of a Thousand Guitars' which is from his latest album, 'Letter to You'. The lyrics in the song certainly encapsulated the moment and what the world is going through right now: "So wake and shake off your troubles my friend/We'll go where the music never ends/rom the stadiums to the small town bars/We'll light up the house of a thousand guitars."
The Boss then did a solo rendition of his 2007 track, 'Long Walk Home'. He finished off his set, accompanied by Scialfa again as they performed another track from his new album, 'I'll See You In My Dreams'. You can watch the event below.
There were multiple high profile guests who made an appearance at the virtual benefit. Sheryl Crow, Brad Paisley, Mickey Guyton, Tiffany Haddish, Ray Romano and Prince Harry. The event supports the Bob Woodruff foundation that aims to help wounded veterans. Springsteen has appeared at 12 of the last 14 events.
Woodruff said "For the last 14 years, the Stand Up for Heroes event has continued to inspire our nation and serves as a reminder of all of the brave individuals that have defended our country selflessly in our military. This year, it is especially important that we unite to show support for their sacrifices as we come together virtually to stand up for our heroes." For more information on the foundation, visit here.
Bruce Springsteen takes over Radio Nova every Thursday night from 7 and Sunday mornings at 9 o clock. Radio Nova plays Springsteen's radio programme entitled 'From My Home to Yours'. For more information click here.
https://www.youtube.com/watch?v=fkQxWZJO8-A