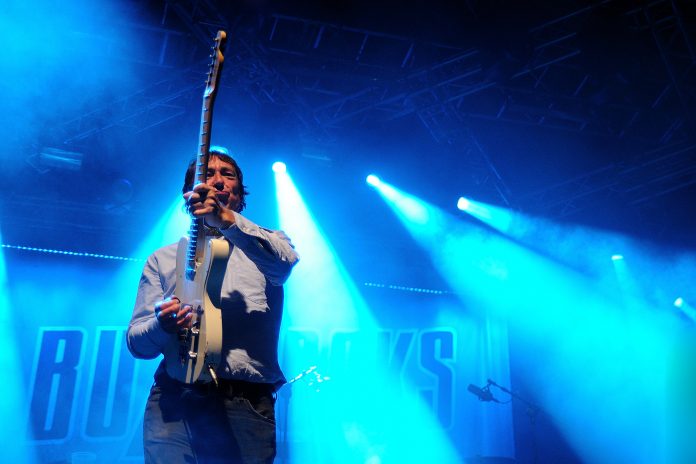 The Buzzcocks are to reissue 12 singles that were released for United Artists between 1977 and 1980 in a seven inch vinyl box set.
The new box is set to be released on January 15, 2021 via Domino records. It is available to pre-order here.
Each single in the new set has been remastered from the original mixes and tapes. It also includes a 36 page booklet written by author and punk chronicler Clinton Heylin. The box set also recreates Malcolm Garrett's original sleeve design. Garrett is a British artist who designed many of the band's artwork.
The box set includes all the singles from their first three albums; 'Another Music in a Different Kitchen', 'Love Bites' and 'A Different Kind Of Tension'. In 1978, the Buzzcocks released their first two albums in a space of six months.
The new release includes the Buzzcocks biggest hit 'Ever Fallen in Love With Someone (You Shouldn't've)' along with other songs such as 'What Do I Get', 'Everybody's Happy Nowadays' and 'Why Can't I Touch It?'.
Formed in 1976 in Manchester, the Buzzcocks were an influential band on the Manchester music scene. The band played at the famous Sex Pistol show at Lesser Fair Trade Hall. These bands and that concert in particular was a huge influence on The Smiths, The Fall and Joy Division. The group disbanded in 1981 before reforming in 1989.
Since their reformation, the band continued to record albums and play live.
Earlier this year, the Buzzcocks now fronted by guitarist Steve Diggle released new music for the first time since the passing of original frontman, Pete Shelly in 2018. You can check out the two songs 'Gotta Get Better' and 'Destination Zero' below.
In 2019, the band put on a special show at the Royal Albert Hall to commemorate the life and career of Pete Shelly. The band were joined by Tim Burgess (The Charlatans), Captain Sensible and Dave Vanian (The Damned), Peter Perrett (Only Ones), Thurston Moore (Sonic Youth), Richard Jobson (Skids) and Pauline Murray (Penetration). Former members John Maher and Steve Garvey played at the concert as part of a classic 'Buzzcocks' line up.
Complete UA Singles 1977 – 1980 Track list
Orgasm Addict / Whatever Happened Too…?
What Do I Get / Oh Shit
I Don't Mind / Autonomy
Love You More / Noise Annoys
Ever Fallen in Love With Someone (You Shouldn't've) / Just Lust
Promises / Lipstick
Everybody's Happy Nowadays / Why Can't I Touch It?
Harmony in My Head / Something's Gone Wrong Again
You Say You Don't Love Me / Raison D'etre
Part 1 – Are Everything / Why She's A Girl From The Chainstore
Part 2 – Strange Thing / Airwaves Dream
Part 3 – Running Free / What Do You Know