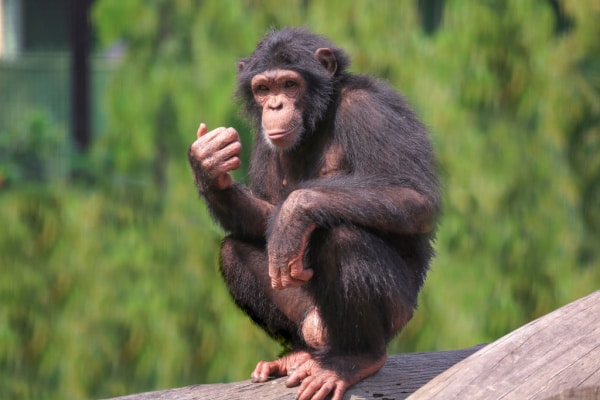 Footage of a chimp escaping from a zoo in the Ukraine, before being lured back with a yellow rain coat, has been shared.
The female primate named Chichi was spotted walking through the beseiged city of Kharkiv. She had reportedly escaped from a temporary facility at the zoo, having made a hole in a chain link fence.
Reports have also alleged that Chichi has made several unsuccessful attempts to flee the facility.
Footage of this incident was filmed by regional broadcaster Suspilne Kharkiv, who also revealed that the ape had wandered into the city's central Svovody Square.
Chichi Come Home 
Zoo staff had also tried unsuccessfully to get Chichi to come home, after she walked into a nearby park.
Others had tried to gain her trust with a bribe of sweet treats, while a blonde woman was also spotted trying to talk to the animal.
However following a drop of rain, Chichi suddenly ran over to her keeper and they embraced, in a heartwarming piece of footage, which you can check out below.
The woman then gives Chichi a yellow raincoat, who of course stretches out her arms and puts them through the sleeves.
Following this, Chichi even managed to hitch a lift back to the zoo, thanks to the help of a local, before being safely returned according to the zoo's director Oleksiy Hryhoriev.
Chichi had previously been moved from her Feldman Ecopark home following the Russian invasion of Ukraine, which hit the region of Kharkiv hard. Before the Ecopark was evacuated, over 100 animals were killed during the early days of this invasion.
Local businessman Oleksandr Feldman insisted that the animals need "warmth, love and care".
He also revealed that several volunteers who helped him to evacuate animals were killed, including a 15 year old boy who came to the park, before being caught in the Russian attack.
"Animals suffer from war no less than people", Feldman posted via Facebook. "The recipe for the rehabilitation of war animals is quite simple – it is love and care. And a peaceful sky above your head".