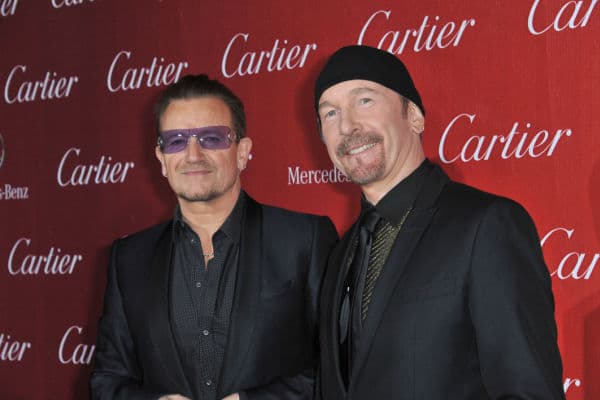 A trailer previewing a documentary featuring Bono, The Edge and David Letterman in Dublin has just been released. Check it out below.
The documentary has also been described in a press release as "part concert movie, part travel adventure plus a whole lot of Bono and The Edge, with Dave's humor throughout". 
It will also show Letterman meeting up with U2 bandmates Bono and The Edge, who he later helps with a live performance.
News of a forthcoming documentary was confirmed last month.
Check out the trailer for yourselves below.
Bono & U2 To Release 'Songs of Surrender'
The documentary featuring Bono, The Edge and David Letterman arrives on March 17, coinciding with the release of their album 'Songs of Surrender', which includes 'reimagined and re-recorded' tracks.
U2 have already previewed this album by releasing reimagined versions of 'With or Without You' and 'Pride (In The Name of Love)'.
The album will also include reimagined versions of 'Beautiful Day', 'Invisible', 'One', 'Sunday Bloody Sunday', among others.
"The process of selecting which songs to revisit started with a series of demos. I looked at how a song would hang together if all but the bare essential elements were taken away. The other main aim was to find ways to bring intimacy into the songs, as most of them were originally written with live concert performance in mind", The Edge said. 
You can also check out more on this story from Nova here.
U2 Are Going To Vegas
Elsewhere, Bono and co have also confirmed plans for a major residency at Las Vegas.
According to an announcement, "The Sphere show has been in the works for a long time. We don't want to let people down, least of all our audience. . . The truth is we miss them as much as they appear to miss us. . . our audience was always the fifth member of the band. 
More on this here.