It's official: Irish chocolate, cheese and whiskey is not just good, it's award winning!
Makers of these products were among eight recipients of The Irish Food Writers' Guild Food Awards for 2020, presented in Dublin at The Marker Hotel on Wednesday.
Irish seafood fared well, too, with hot smoked salmon and wild tuna also among the awards, now in their 26th year celebrating excellence and recognise indigenous food producers and organisations that help to create and maintain Ireland's outstanding reputation in food and drink.
"These awards highlight the incredible work of small, independent Irish food producers and organisations at a time when supporting local, home-grown industries has never been more relevant or important," said Kristin Jensen, chairperson of the Irish Food Writers' Guild (IFWG)
The lifetime-achievement award was presented to Jeffa Gill, who has been making Durrus cheese on the Sheep's Head peninsula, in west Co Cork, since 1979.
Falling Fruit Ireland, a community initiative that organises the harvesting and distribution of seasonal fruit growing in public spaces, was the recipient of the community food award
The Irish Food Writers' Guild Food Awards were celebrated at The Marker Hotel, with a lunch created by executive head chef Gareth Mullins, who incorporated the winning produce into a six-course menu.
The IFWG Food Awards are unique, as no one can enter themselves or their product into the awards and no company knows it has been nominated or shortlisted for an award.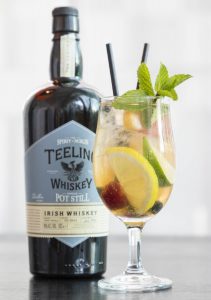 The full winners of the 2020 Irish Food Writers' Guild Food Awards are:
Food Award: Frank Hederman for Hederman Hot Smoked Irish Salmon, Co Cork www.frankhederman.com
Food Award: Shine's Seafood for Shine's Wild Irish Tuna, Co Donegal www.shinesseafood.ie
Food Award: Inch House Traditional Black Pudding, Co Tipperary www.inchhouse.ie
Irish Drink Award: Teeling Single Pot Still Irish Whiskey, Co Dublin www.teelingwhiskey.com
Outstanding Contribution to Irish Food Award: Joyce Timmins, Co Dublin
Environmental Award: Exploding Tree (Chocolate), Co Cork www.explodingtree.com
Community Food Award: Falling Fruit Ireland (fruit harvesting), Co Dublin www.fallingfruit.ie
Lifetime Achievement Award: Jeffa Gill (cheesemaker), Co Cork www.durruscheese.com