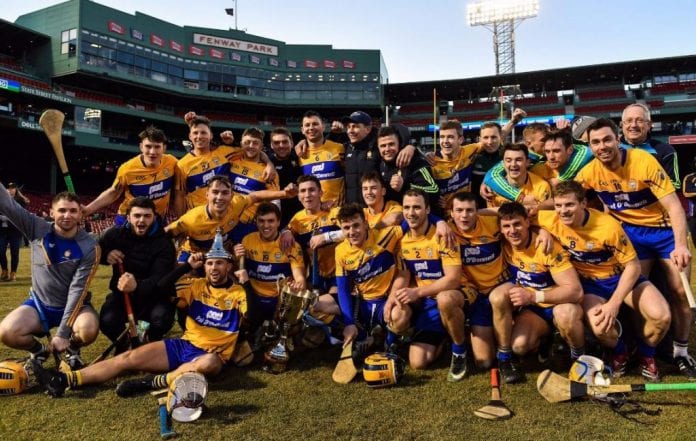 Clare's Peter Duggan, stole the show at the AIG Fenway Hurling Classic which took place in Boston on Sunday afternoon.
Duggan scored 52 points over the course of two games; a semi-final win over Tipperary and taking the final spoils against All Ireland Hurling champions Galway.
The banner county defeated Tipperary on a scoreline of 50-45 in the semi, leading their way to the final with much excitement following a last minute penalty save.
Hurling lived up to its title as the world's fastest field sport. 🏃‍♂️ #AIGFenwayHurling pic.twitter.com/LNjwTLUldr

— Fenway Park (@fenwaypark) November 19, 2017
Taking the lead early on, the tribesmen made a significant comeback before the final whistle, the teams ending on tighter note than what Clare had initiated.
Duggan was spectacular throughout, putting both his physical strength and exceptional skill on show for the 27,862 strong crowd, the final score reading 50 – 33.
On another note, Pat Gilroy had an interesting day at the helm for his first game in charge of the Dublin hurlers.
Class by @GaaClare 's Peter Duggan #AIGFenwayHurling #Hurling #Super11s pic.twitter.com/KjzjLVj4Ib

— Spórt TG4 (@SportTG4) November 19, 2017
His side lost out to Galway in the second semi-final of the afternoon, but it didn't go off without a hitch.
In a repeat of 2015's classic, the teams became embroiled in plenty of fanfare once again.
The two teams became the centre of attention early on, taking part in some 'handbag' action which was ridiculed following the 2015 series.
Yup they're at it again @John_W_Henry 🙂 🙂 #AIGFenwayHurling pic.twitter.com/DxE068g1TK

— Spórt TG4 (@SportTG4) November 19, 2017
Nonetheless, Gilroy will be happy to have the exhibition game under his belt, having the opportunity to see what his players have to offer before the upcoming league.
Feature Image: AerLingus