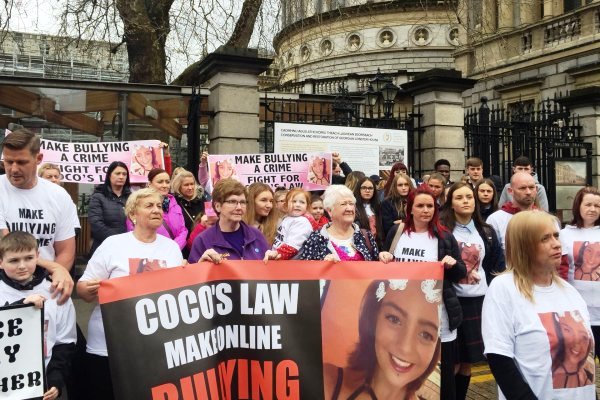 The family of a young woman, who took her own life after being bullied online, has held a vigil outside Leinster House. 21-year-old Nicole Fox Fenlon from Clondalkin in Dublin died by suicide in January.
Her mum Jackie wants cyberbullying to be made an offence and for online bullies to be held to account. She says Nicole was bullied for years through social media.
"She was told 'to go die, we're going to put you on life support machines, we're going to kill you, we're going to beat you up'," said Ms Fox. "They all joined in on group chats and all said what they had to say about her – but it's not an offence.
"It's not an offence in Ireland. It is in loads of other countries but it's not an offence in Ireland to threaten someone's life on social media." Ireland's harassment laws have not been updated since the advent of the text message, meaning threatening messages sent on social media are not considered crimes.
However, Ms Fox is determined to put an end to "this outdated" legislation and is campaigning to make online abuse against the law. "There is a lot of evidence on Nicole's phone, which shows the extent of the bullying, but there's nothing the authorities can do because there was no offence committed according to Irish law.
'Coco was the name we affectionately called Nicole, so I think naming the law after her will be a very poignant and affecting gesture," she said. "These bullies are getting younger and so are the victims.
Last year, a Labour Bill was published to modernise Ireland's existing harassment legislation to safeguard people against all forms of harassment, including stalking, cyber- bullying and so-called "revenge porn".
Deputy Brendan Howlin said at the time: "The measures we are proposing seek to bring Ireland's regulations into the 21st century, by broadening the definition of communication to cover all electronic, written and spoken words.
Well done Jackie Fox. A family's devastation at the loss of a wonderful daughter- Coco. Legislate now for "Digital harassment" as a major deterrent to cyber bullying. pic.twitter.com/fbzGRseMYs

— Máire Devine (@mairedev) April 24, 2018