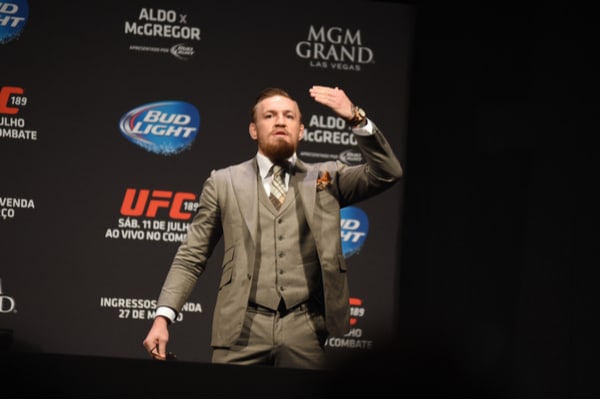 He was buying Manchester United, he was buying Chelsea, he has already bought pubs, but now Conor McGregor has declared that he is buying Twitter, as Elon Musk's deal to purchase the platform is "on hold".
This comes after Elon Musk's deal to buy Twitter hit the pause button over spam and fake account issues on the site.
On buying Twitter, Musk had already said this.
"Free speech is the bedrock of a functioning democracy, and Twitter is the digital town square where matters vital to the future of humanity are debated". 
However, Musk reportedly wants more information over how many fakes are on the site, before any deal is completed.
However, he insists that he is still "committed to acquisition".
"Twitter deal temporarily on hold pending details supporting calculation that spam/fake accounts do indeed represent less than 5% of users", Musk said.
McGregor Says "I'm buying Twitter"
In light of Musk's stalling, Conor McGregor has hinted he may step into the breach.
"I'm buying Twitter", the UFC star wrote. However, this tweet has since been deleted.
Back in March, Conor McGregor had also hinted that he was going to place a bid to buy Chelsea FC, after owner Roman Abramovich was sanctioned by the UK government over his association with Russian president Vladimir Putin.
"Chelsea for sale, £3bn. Let's buy it!", McGregor wrote into an unnamed WhatsApp group. He also tweeted, "I wish to explore this".
McGregor had said in an interview that he would be a billionaire by 2023. However, reporter Andrew Petcash stated that McGregor might not even have to wait that long.
"Conor McGregor will be a billionaire this year", he said. "$235M from fighting and a $600M deal off the ring". 
Last year, McGregor had also hinted that he wanted to buy Manchester United, after their Vice execuitive chairman, Ed Woodward announced he was stepping down following the collapse of the European Super League.
"Hey guys, I'm thinking about buying Manchester United! What do you think?", the Dubliner tweeted. More on this report from Nova right here.