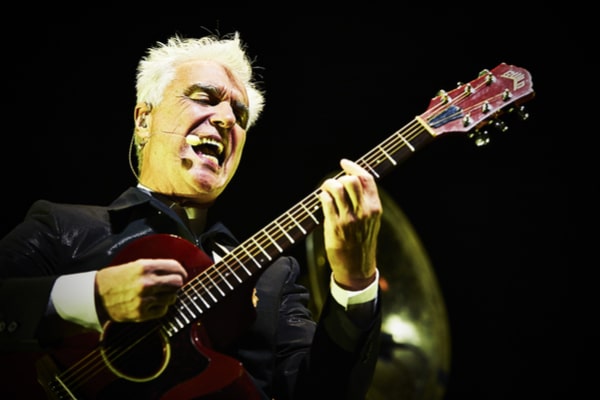 David Byrne has announced his much anticipated Irish return as part of his American Utopia tour at the 3Arena, Dublin this year!
The gig which is set to take place on October 24th will feature very special guest; Benjamin Clementine.
The American Utopia tour fits hand-in-hand with Byrne's vision for his series 'Reasons To Be Cheerful', named for the song by the late Ian Dury. Over the last year, Byrne has been collecting stories, news, ideas, and other items that all either embody or identify examples of things that inspire optimism, such as a tech breakthrough, a musical act, a new idea in urban planning or transportation—something seen, heard, or tasted.
Just as the album questions the current state of society while offering solace through song, the content of the series recognises the darkness and complexity of today while showcasing alternatives to the despair that threatens us.
While David Byrne has collaborated on joint releases with Eno, Norman Cook (aka Fatboy Slim), and most recently St. Vincent over the past decade, American Utopia is Byrne's first solo album since 2004's Grown Backwards, also on Nonesuch.
American Utopia morphed during the writing and recording process, beginning with longtime collaborator Eno, and eventually growing to include collaboration with producer Rodaidh McDonald (The xx) alongside a diverse cast of creative contributors.
Speaking about the album, Byrne said: "This album is indirectly about those aspirational impulses. Sometimes to describe is to reveal, to see other possibilities. To ask a question is to begin the process of looking for an answer. To be descriptive is also to be prescriptive, in a way. The act of asking is a big step. The songs are sincere—the title is not ironic. The title refers not to a specific utopia, but rather to our longing, frustration, aspirations, fears, and hopes regarding what could be possible, what else is possible. The description, the discontent and the desire—I have a feeling that is what these songs touch on.
"I have no prescriptions or surefire answers, but I sense that I am not the only one looking and asking, wondering and still holding onto some tiny bit of hope, unwilling to succumb entirely to despair or cynicism.
"It's not easy, but music helps. Music is a kind of model – it often tells us or points us toward how we can be."
Tickets are on sale this Friday at 10am. Tickets priced from €49.50 inclusive of booking and facility fees go on sale at 10am this Friday, June 15th via usual Ticketmaster outlets and www.ticketmaster.ie.