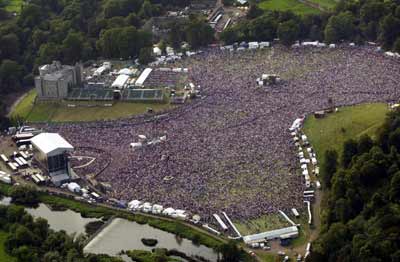 The nights may be getting shorter but festival season is far from over. Electric Picnic at Stradbally in Laois from August 30th is a musical hamper packed with mouth-watering acts such as Arctic Monkeys, Johnny Marr, the Duckworth Lewis Method and Robert Plant Presents The Sensational Space Shifters.
But before the Picnic, there's an appetiser tomorrow when Co. Meath will be bouncing to the beat of Tara Rocks. This no-frills festival is all about Irish music and, good news if you're not a fan of camping in the rain or figuring out how to use dry shampoo and all the usual fuss that goes hand in hand with weekend-long festivals; this one is just one day!
This Saturday, the action's at Tara na Rí at the foothills of the Hill of Tara. Now in its third year, Tara Rocks has enjoyed success thanks to previous headliners Damien Dempsey and Ryan Sheridan.
This year The Stunning is the main act on the line-up, which also includes The Frank & Walters and Fight Like Apes on the Main Stage, in addition to the open mic in The Stables and a Jamming Session in the Lounge, with a Christy Moore tribute.
And if you like to be able to say "I saw them before they were famous", festival organisers boast Tara Rocks mixes the best of the Irish music scene with up-and-coming local talent.
Bands and artists have been qualifying over the past few weeks to play in front of the crowd just before The Stunning take to the stage. Tara Rocks kicks off at 2pm tomorrow at Tara na Rí with tickets available on the door.
More information at www.tararocks.ie and the forecast is for sunshine so you can leave the wellies at home! [er, insert weather prediction disclaimer here!]
Dee Woods
Nova Nights Mon-Fri 7pm-12am and Sundays 12-2pm
@RaDeeOh