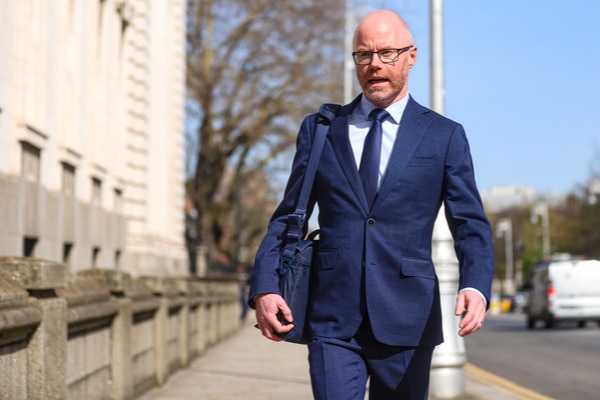 At the Fine Gael parliamentary party meeting last night, Leo Varadkar claimed people who want to be vaccinated would be by June. However, Stephen Donnelly described the Tánaiste's claim as "very ambitious" when speaking in a radio interview, this morning.
Although saying it is too soon to be certain, Mr Varadkar told members it "may be possible" to administer first doses by the end of next month. Of the Tánaiste's claims, including being "increasingly confident" in administering 300,000 to 400,000 a week, Donnelly said he hopes the Government can "deliver on that."
The Tánaiste said that he could do twice as many vaccinations during his shifts as a vaccinator if the supply was there. This would indicate that as more supplies of vaccinations become available, it could become feasible to administer 350,000 vaccines a week.
This morning, Donnelly said this could be possible if the vaccines that have been ordered are delivered on time. The Minister for Health believes four out of every five eligible people would be vaccinated by June if everything went to plan. Donnelly told Newstalk that the latest analysis of figures suggests everyone would have been vaccinated by September.
Regarding people's hesitancy of being vaccinated, Donnelly said recent research has shown 70% would "definitely" take the vaccine. 16% said they "probably would" go to get vaccinated, taking the tally to an acceptable level of 86%, which Donnelly said is a "very strong" uptake.
Donnelly anticipates "a considered view" from the National Immunisation Advisory Council on what levels of protection a vaccine will offer. The type of vaccination used, and its level of protection from various strains, is said to determine qualification for the European travel certificate. This is something the Health Minister would like to know before delivering estimations and he believes this could be in place by late June or July.
1.9 million doses have been administered in Ireland, with people aged 16 and over who had at least one dose making up around 35%. According to the latest data on vaccinations, 1,922,913 doses have been administered in Ireland to date, with 1,408,105 first doses and 514,808 second doses.