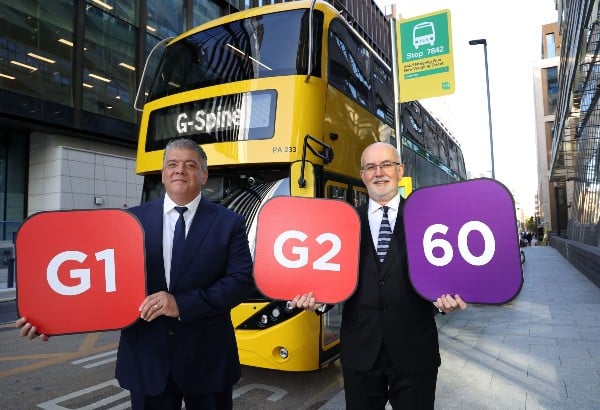 Dublin City gets a new 24-hour bus service from today.
The National Transport Authority and Dublin Bus have launched the fourth phase of BusConnects which will serve a number of communities in the west of the City.
This is the latest in a growing number of 24-hour bus operations to serve Dublin City.
The G Spine bus service will serve the communities of Ballyfermot, Liffey Valley, Clondalkin, Islandbridge and the City Centre.
As part of Phase 4 of the project, the 79, 79A and 40 bus routes will be replaced from today.
The new timetable will operate very frequently on the spine section between Ballyfermot and the City Centre with buses operating every 8 minutes from 6am to 10pm on weekdays.
Speaking at the launch, Anne Graham, CEO of the NTA said: "BusConnects aims to improve bus services and to connect people and places in Dublin. Today's launch means we will have ten routes operating 24 hours a day, 7 days per week across Dublin."
Andrea Keane, Acting CEO of Dublin Bus, added: "The launch of G Spine and Route 60 services is positive news for our customers across West Dublin. Along with providing increased capacity, frequency, and weekend services, this new phase will offer people 24-hour access to the docklands and key parts of the city's business district."
Route 60 will operate every 60 minutes from 5am to 11pm on weekdays.
As and from today, Dublin now has ten bus services operating 24 hours per day, seven days per week.