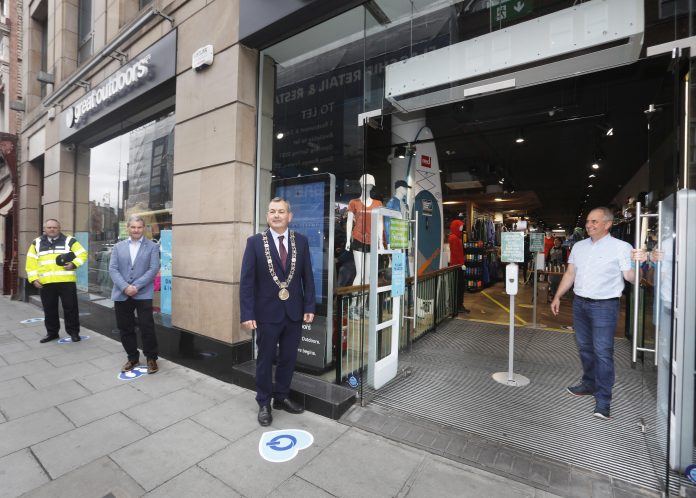 With the latest phase of the government easing of restrictions to begin tomorrow, June 8th, Dublin City Centre is getting ready to partially reopen and welcome people back to the capital while observing key public health guidelines.
Dublin city will be easing open… "like Sunday mornings", with a new campaign narrated by Irish actor, Colm Meaney to help guide visitors and workers on health and safety requirements and information around the city centre.
https://www.facebook.com/DublinCityCouncil/videos/182994829758131/
Many street facing retail operations in the city are expected to reopen with key public health protocols in place. Visitors can expect a new look to the city with vibrant blue signage, information notices on queueing etiquette, and spacing guidelines, all laid out as part of the campaign to help the public adjust to the new normal in town.
The public is advised to be conscious of social distancing measures, and to take note of key travel times in order to facilitate essential workers and their commute and are therefore encouraged to walk or cycle into the city centre where possible.
The public is reminded that longer opening hours are being encouraged across many businesses so visitors can spread out their travel time to ensure that public transport restrictions can be observed during commuting hours for essential workers and throughout the day. People travelling to the city should be mindful of limited public facilities such as bathrooms and toilets due to the non-availability of restaurants, pubs and hotels during this phase. However, Dublin City Council will be working with the partners to make such public facilities available at specified locations.
Tom Brabazon, Lord Mayor of Dublin said, "It has been a long, hard few months, but today represents a good day for our wonderful city. We're finally beginning the journey to get back to some level of normality. My message to all Dubliners is that we are looking forward to welcoming you back into the heart of the city from Monday but please remember that we are easing open. For the next while the city will feel like it used to do on a Sunday morning. Today we take the first steps to re-opening Dublin, today is a good day."
Business owners in the city can now avail of a downloadable toolkit, with useful assets and informative artwork to promote social distancing and safe shopping when they reopen their doors from June 8th here.
DublinTown has been working tirelessly with businesses in the city centre on how to best facilitate their reopening safely in the coming weeks. Queue spacers will be clearly marked outside, and inside retail outlets and members of the public are asked to be cognisant of social distancing and cough etiquette at all times when visiting outlets in the city centre.
"June 8th marks the next major step in re-opening the city centre. Customer safety is everyone's priority and therefore, DublinTown has worked with its members, Dublin City Council, Gardai and the NTA to ensure that visitors to the city centre have as good an experience as possible.  Current circumstances mean that things will be different and in this we all have a part to play in utilising the city's strengths for the maximum benefit of the majority of people.  There will be give and take but we are all in this together and we know that Dubliners will apply their usual common sense and good nature to the changing conditions. We look forward to renewing old acquaintances in a safe and welcoming environment,'' Richard Guiney, CEO of DublinTown said.
A recap on tips to ensure a safe and enjoyable experience in the city centre:
Plan out your journey in advance and think about what you are travelling in for/which shops etc.?
Be mindful that public transport is restricted to 20% capacity and that you are being asked to keep it free at peak times for essential workers
Walk or Cycle where possible
Practise social distancing and queueing etiquette at all times
Continue to practise good hygiene at all times regarding coughing, hand washing etc.
Respectfully engage with, and take direction from on-street and off-street frontline personnel, Shop Assistances, Gardaí, City Council Staff and Transport Providers
Visit www.dublin.ie and www.dublintown.ie for more information.