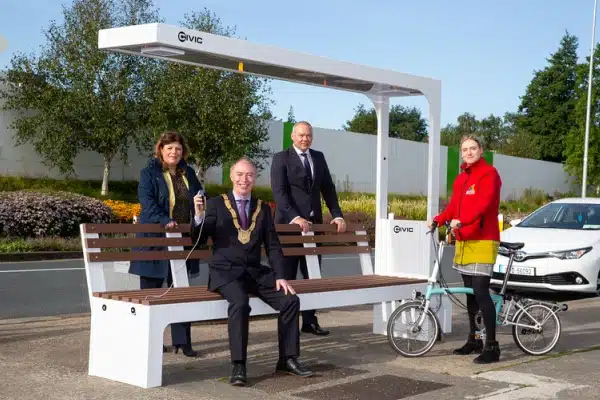 Dún Laoghaire-Rathdown County Council has launched the world's first solar powered smart bench which includes cycling equipment in the Smart Sandyford Business District.
An Cathaoirleach, Councillor Shay Brennan said "dlr have consistently shown leadership by being a national test-bed for a wide range of energy innovations, from internal systems to public amenities".
Central to the County Development Plan is an aspiration to be carbon neutral so it looks to energy future proof the county through reduced dependence on fossil fuels.
Dún Laoghaire-Rathdown's Public Sector exemplar role on energy and pro-active actions in environmental, social and economic sustainability has been recognised by being shortlisted in the Public Sector Leadership Category of Sustainable Energy Authority of Ireland's Awards. DLR has improved its energy efficiency by 32.4% based on 2018 data.
Leading the way in dual usage municipal infrastructure, dlr installed the first public lighting poles to be used for charging Electric Vehicles. 40% of public lighting in the county has been upgraded to LED and the aim is 50% by year end.
LED upgrades have taken place in the dlr Leisure Centres, Community Centres and libraries in 2018-2019. A pilot for an SEAI/Energy Supplier/Credit Union loan for home energy upgrades was first trialled with dlr staff and is now being rolled out nationwide. dlr was the first Dublin Local Authority to achieve full compliance with ISO 50001 certification.
Approximately €1.1m was spent on deep retrofit energy housing upgrades over the last year to bring homes to A rating. New housing is being designed to nZEB and Passive House standards and current pilots include deep energy retrofits of different house types that can be replicated elsewhere.
Andrée Dargan, the County Architect and the Energy Performance Officer said "A World nZEB Forum 'Climate Action through nearly zero energy buildings' will take place in Dún Laoghaire-Rathdown this November as the national nZEB standard comes into force. Once again dlr is at the forefront in promoting best energy efficient building practices".
dlr is running a free home energy improvements seminar including information on SEAI grants on Sunday 13th October in the LexIcon Studio, Dún Laoghaire as part of the Open House Dublin programme from 12-2pm and 2-4pm (the first seminar starts at 12 noon and it will be repeated at 2pm).