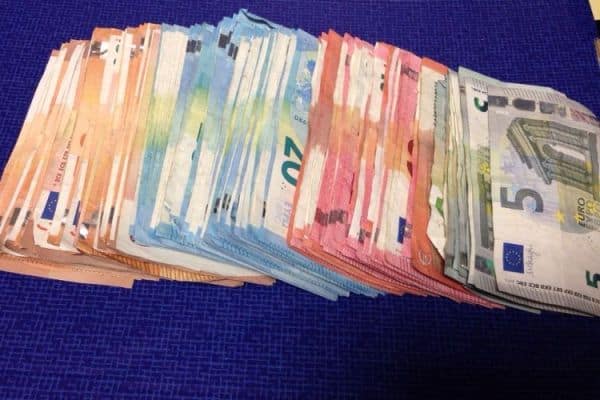 The Criminal Assets Bureau have concluded a series of raids today targeting the Kinahan crime cartel.
In excess of 150 gardaí were involved in searches across several counties including Dublin, Meath, Limerick and Longford.
The raids began at 5am this morning with local gardaí and armed units joining forces with the CAB. They took in searches of twenty residential premises, eighteen professional premises and one gymnasium.
Gardaí confirmed that around €15,000 in cash was seized along with a number of high end Swiss made watches as well as luxury cars including an Audi Q7, a Mercedes Vito as well as a VW Golf GTD and Honda Motorcycle.
Several documents and mobile phones are being examined by investigating officers and a freezing order was issued because of a substantial sum of money located in one bank account.
The focus of one particular member of the crime faction and his assets are of particular interest to authorities, especially his property portfolio.
The prominent convicted armed robber is reported to be the "logistical operative" for the gang on Dublin's northside and is a key target for investigating members of the force, seeking answers to the ongoing questions about the whereabouts of key figures in the Kinahan-Hutch feud.
His property portfolio includes a flat in Dublin, two homes, a site and industrial units in county Dublin as well as a pair of houses in Limerick.
Detective Chief Superintendent Pat Clavin from the Criminal Assets Bureau outlines some of what they've seized so far…..
"Cash, jewellery and vehicles have been seized. A freezing order has been made in respect of a substantial amount of money in a bank account and a quantity of documents, mobiles phones etc. are being examined by our investigating officers and our specialist investigators within the bureau."
"This CAB investigation into an Organised Crime Gang is continuing, today marks a significant development in the progress of this investigation. The Criminal Assets Bureau are relentless in their mission to identify the criminally acquired assets of persons and to deny such people these assets. The motivation of these organised crime gangs is greed for wealth and we will do all we can to deprive them of this wealth".