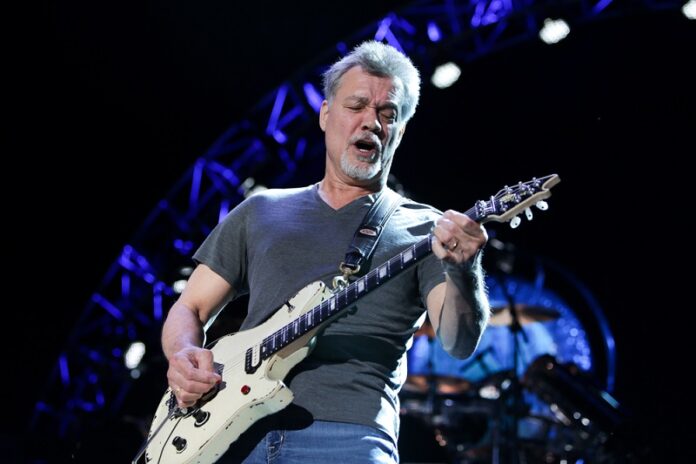 Three guitars that use to belong to Eddie Van Halen have sold for a combined $422,000 (€347,000) at auction.
The guitars were sold as part of the Icons and Idols Trilogy : Rock and Roll Auction held at Julien's Auctions this week.
The three Eddie Van Halen guitars that were sold were his customised Kramer 'Frankenstrat'. That particular guitar was built at Van Halen's home with his guitar tech Matt Bruck. It went for the highest price out of all of the guitars as it went for more than $230,000.
Van Halen's 2004 EVH Charvel Art Series guitar sold for $140,080 and a guitar prop from the 'Hot for Teacher' music video went for $50,000.
Nearly 900 items were offered in the all-star line-up of artefacts and memorabilia owned and used by some of the world's greatest music artists of all-time including Eddie Van Halen, Kurt Cobain, Elvis Presley, Michael Jackson, Madonna, Little Richard, Bob Marley, Jimi Hendrix's and more.
Two Kurt Cobain smashed Fender guitars sold at a combined $281,600 and Bob Marley's first guitar sold for over $150,000.
It's no surprise to see Cobain items go for huge money. Earlier this year, Cobain's guitar from Nirvana's legendary Unplugged performance went for over six million dollars. Peter Freedman, an Australian businessman and founder of Røde Microphones bought the guitar. Cobain's cardigan from the same show went for over $330,000 at an auction in 2019.
Eddie Van Halen sadly passed away this year. The guitar icon was 65 years old when he died in October. Tributes poured in for the legend from all around the music world. His son Wolfgang confirmed that the band Van Halen would not go on as he said "you can't have Van Halen without Eddie Van Halen".
Meanwhile, a new Jimi Hendrix cover by Eddie Van Halen has been released. Eddie Van Halen covered 'If 6 was 9'. It was found and remastered by keyboardist David Garfield and released on his new EP entitled 'Guitar Heroes OTB, Vol. 1'. Thanks to guitarworld, you can check out the cover here.