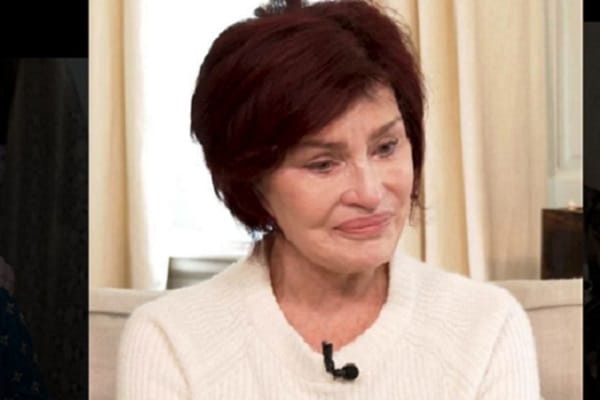 Sharon Osbourne broke down in tears, after she revealed that she was travelling back to the US to be with her husband Ozzy, who has caught Covid-19.
Mrs Osbourne also confirmed that she will be therefore unable to co-host her debate TalkTV show The Talk.
However, she promised to return to the show next week. She promised to join her fellow hosts by video link in LA.
Ozzy Osbourne had previously been diagnosed with Parkinson's disease back in 2019.
Sharon spoke about Ozzy's tale of woe during an interview with Piers Morgan on his new TalkTV show Uncensored.
"How is Ozzy?", Piers asked. "My great man. He's just one of my favourite people in the world. Been through the health wars a bit. How's he doing?".
Sharon replied, "He's doing okay. He is. He sends you his love. He's got one more operation left to do and then he's dying to come back home".
"I am very worried" – Sharon Osbourne
"I spoke to him and he's OK", a clearly emotional Sharon Osbourne said in an emotional video.
She added that she was "very worried about Ozzy right now".
She also revealed, "We've gone two years without him catching Covid and it's just Ozzy's luck it would be now".
Despite his positive Covid diagnosis, Sharon Osbourne also insisted that she will still "hold him and kiss him" with "about three face masks on" when she sees her husband.
"My family is my life", she continued. "I can't believe my luck. I'm missing the show and I've only been there three days".
"I can't believe it. Three days and I'm missing the show but I will be back. I know I will.
"It will take me a week to get my old man back on his feet again and I will be back.
"You're going to see me back on air in a week".
"I know my husband" she also added. We're going to get him back on his feet and we're going to get a negative test by next week".
The couple tied the knot in 1982. They have three children, Kelly, Aimee and Jack.
Sharon also spoke about the couple's "volatile past" last year. There is also more from this report here.