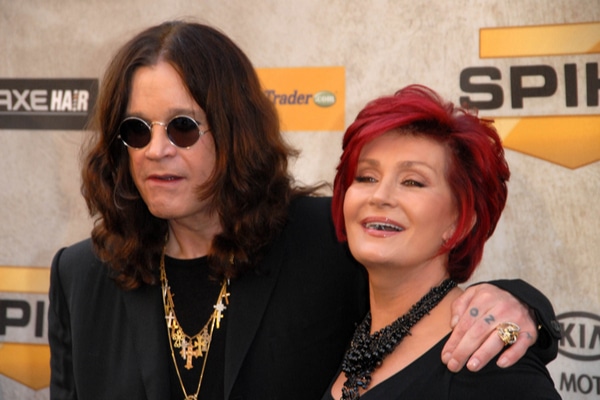 In a new interview, Sharon Osbourne has opened up about her and husband Ozzy's "volatile past". She revealed that the pair used to "beat the s*** out of each other" during their relationship.
Sharon also opened up about the upcoming biopic which is to begin filiming in the Spring of 2022, which will tell the story of the pair's relationship. A relationship described by Sharon as a "love story".
Despite the love that the pair have for eachother, Sharon revealed that there has rarely been a dull moment in the Osbourne household during their 39 year marriage.
The couple did split up briefly in 2016, when Ozzy's affair with hairdresser Michelle Pugh came to light.
Speaking to the Daily Mail, Sharon Osbourne did not hold back, revealing that the couple have had their fair share of bizarre and violent moments. These include Ozzy trying to strangle her in 1989.
"Our fights were, legendary. We would beat the s**t out of each other. It stopped, must be, 20 years ago, but we had a good run", Sharon said.
Sharon also revealed that her association with violence stemmed from an early age. She said that she was raised in a home where her father Don Arden was "notoriously violent".
Don Arden was a music manager and agent who managed Ozzy Osbourne's band Black Sabbath.
"Our volatile relationship"
Speaking about the upcoming Ozzy/Sharon biopic, Sharon Osbourne said, "It's a movie about Ozzy's and my life, how we came together in the early days and our volatile relationship".
She continued, "All the fights, all the makeups, all the fights, all the arrests, all the everything. And it's a love story". 
"People are going to watch it go, 'This isn't allowed. They shouldn't behave that way and put it on film'" she added.
"But (we're) only talking the truth. Some people have volatile relationships and ours was very volatile". 
Sharon Osbourne also explained how her husband Ozzy and herself have learned to cool their tempers.
"You grow. You grow to a stage where it sickens you".
She also added, "you grow to a stage where it physically makes you sick, but when you're young and, you know, you're fighting the world. It's different". 
The couple also celebrated their 39th wedding anniversary earlier this year. 
Sharon talks about Ozzy's current state of health
Sharon Osbourne also confirmed that Ozzy Osbourne will undergo major surgery for his spine and neck issues. These issues resulted from a serious fall back in 2019.
This fall forced Ozzy to postpone his No More Tours 2 Tour. A series of health issues and Covid restrictions have meant that this surgery has been delayed.
"The thing I'm most excited about is my hubby getting back on stage", he said. "That's what I pray for". 
She added, "It was like that one after the other and it's like, woah, just a minute, you know? It breaks your heart that he wants to get back. He misses his friends, his musicians, they're his partners. He misses that life".
"But with his Parkinson's, he's fine. He's fine, he's got it under control".