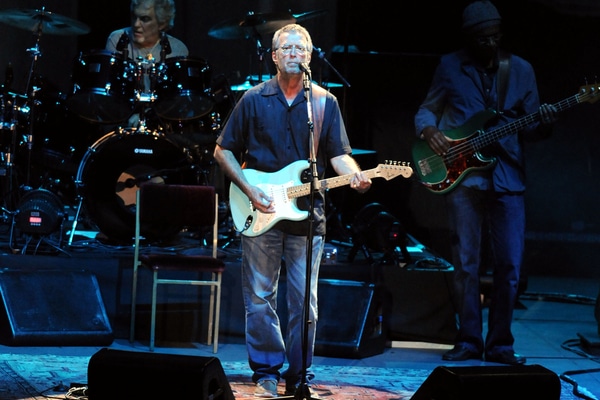 August 20 will see Eric Clapton release a special deluxe anniversary edition of his self-titled debut solo album from 1970.
This will also be the first time that Eric Clapton Mix will be released in full.
This collection will include a vinyl LP, and four CDs. The LP will include three separate mixes.
These are the "Eric Clapton Mix", "The Tom Dowd Mix", and the "Delaney Bramlett Mix". 
The album was launched on June 9 with the release of two tracks Blues Power (Eric Clapton Mix) and After Midnight (Delaney Bramlett Mix).
Pre order it here.
Clapton himself has recently received criticism from Queen's Brian May over to his stance on lockdowns and the Covid vaccine. More on that here.
One of the biggest reinventions of rock history
This album is also one of the most successful reinventions in rock history.
Following his success as a seminal guitar player in the 1960s, Eric Clapton went from a flamboyant icon to a well rounded recording artist thanks to this album.
This lay the foundations of his subsequent successful solo career. The edition also includes some singles, alternate versions along with session outtakes.
Eric Clapton: The Anniversary Deluxe Edition Tracklist:
CD1 (The Tom Dowd Mix – The UK Version all mixes released on CD and vinyl)
Slunky   3.40
Bad Boy   3.59
Lonesome And A Long Way From Home   3.50
After Midnight   3.14
Easy Now   3.03
Blues Power   3.15
Bottle Of Red Wine   3.12
Lovin' You Lovin' Me   3.39
I've Told You For The Last Time   2.36
I Don't Know Why   3.23
Let It Rain   5.06
CD2 (The Eric Clapton Mix)
Slunky   3.34  unreleased mix
Bad Boy   4.20  unreleased mix
Lonesome And A Long Way From Home   3.58  unreleased mix
After Midnight   3.19  released on Life in 12 Bars Soundtrack
Easy Now   2.57  released – this was the only EC mix inserted into the original 1970 Tom Dowd mix LP
Blues Power   3.53  unreleased mix
Bottle Of Red Wine   2.58  unreleased mix
Lovin' You Lovin' Me   3.44  unreleased mix
I've Told You For The Last Time   2.32  unreleased mix
I Don't Know Why   3.35  unreleased mix
Let It Rain   5.18  released on Life in 12 Bars Soundtrack
CD3 (The Delaney Bramlett Mix) all mixes released on 2005 Deluxe Edition      
Slunky   3.35
Bad Boy   3.44
Easy Now   3.00
After Midnight   3.19
Blues Power   3.20
Bottle Of Red Wine   3.09
Lovin' You Lovin' Me   4.07
Lonesome And A Long Way From Home   3.52
I Don't Know Why   3.45
Let It Rain   5.02
CD4
(Singles, Alternate Versions & Session Outtakes) all titles released on 2005 Deluxe Edition CD except COMIN' HOME (Alternate Mix) which is a previously unreleased mix)
Teasin'   2.17  Performed by King Curtis with Delaney Bramlett, Eric Clapton & Friends
Comin' Home (Alternate Mix)  3.44  Performed by Delaney & Bonnie & Friends featuring Eric Clapton  unreleased mix
Blues In "A"  (Session Outtake)  10.28
She Rides (Let It Rain alternate version)  5.08
I've Told You For The Last Time (Olympic Studios version)  6.49
I Don't Know Why (Olympic Studios version)  5.14
Comin' Home (single a-side)  3.15  Performed by Delaney & Bonnie & Friends featuring Eric Clapton
Groupie (Superstar) (single b-side)  2.50  Performed by Delaney & Bonnie & Friends featuring Eric Clapton
1LP
Side A
Slunky
Bad Boy
Lonesome And A Long Way From Home
After Midnight
Easy Now
Blues Power
Side B
Bottle Of Red Wine
Lovin' You Lovin' Me
I've Told You For The Last Time
I Don't Know Why
Let It Rain