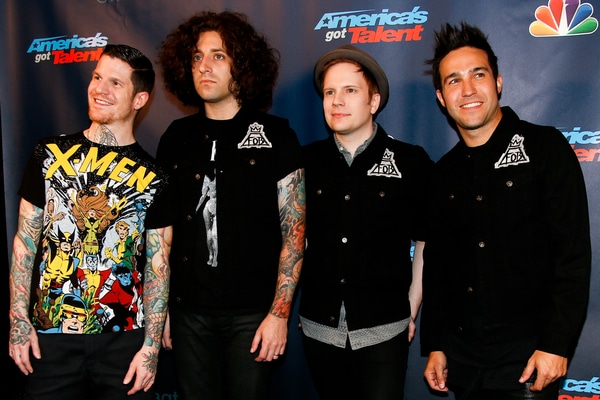 Fall Out Boy have been forced to cancel two of their performances on the Hella Mega tour.
The decision comes as an unnamed member of their team has tested positive for COVID-19.
Hella Mega is a joint US tour that sees the band share the bill with Green Day and Weezer.
The shows cancelled by Fall Out Boy were last night's appearance at New York City's Citi Field and tonight's show at Boston's Fenway Park. Green Day, Weezer and support group the Interrupters are unaffected.
"Out of an abundance of caution, Fall Out Boy will not perform at the New York and Boston shows of the Hella Mega Tour due to an individual on the band's team testing positive for COVID," a statement released by Hella Mega wrote.
The statement stressed that everyone involved with the tour has been fully vaccinated.
"It's important to note that everyone on the entire tour, both band and crew, are fully vaccinated. Each band and their crew have operated in a bubble independently to safeguard everyone as much as possible at each show and in between shows. The tour also has a COVID safety protocol officer on staff full-time that is ensuring everyone is closely following all CDC guidelines."
View this post on Instagram
The Hella Mega tour's US leg was supposed to go ahead last summer but was postponed due to the pandemic. It finally kicked off in Texas on July 24th of this year. While the tour has resumed in the US, the European leg won't go ahead until summer of 2022. It will arrive in Dublin's RDS on June 30th, 2022.
Fall Out Boy is the latest band to have their touring disrupted by a positive COVID test result. Fontaines, Foo Fighters and The Streets have all had to pull out of shows in recent weeks due to members of their crew contracting the virus.
This week sees the premiere of new kids' animated series Marvel's Spidey and His Amazing Friends.
The show, which follows the exploits of Spider-Man and his various buddies, features a theme song written by Fall Out Boy's Patrick Stump. The musician has previously composed film scores for The Banana Splits Movie and Changeland.
You can listen to the theme from Marvel's Spidey and His Amazing Friends below.