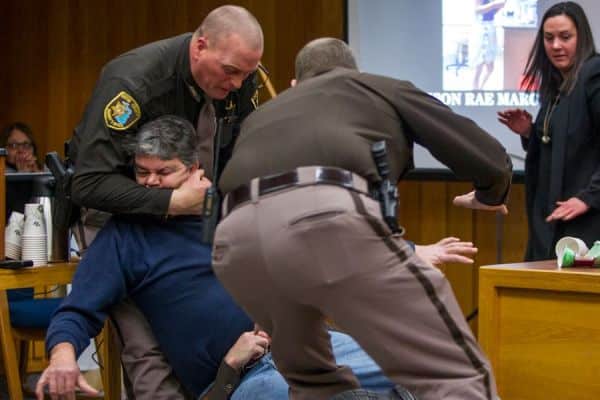 A father whose three daughters were abused by disgraced US gymnastics doctor Larry Nassar attempted to attack him in a Michigan courtroom. Randall Margraves lunged at the convicted paedophile during a hearing today but was restrained by bailiffs.
Mr. Margraves had requested time alone with Nassar when the Judge asked him whether he had anything to say following his daughters' evidence. When the Judge denied his request he rushed towards Nassar.
WATCH: The father of victims of ex-USA Gymnastic doctor Larry Nassar lunges at Nassar in court after saying to judge, "I would ask you to as part of the sentencing to grant me 5 minutes in a locked room with this demon." https://t.co/KltZISbi1m pic.twitter.com/Am0N4gZzsT

— CBS News (@CBSNews) February 2, 2018
The dramatic intervention brought Nassar's final sentencing hearing on sexual abuse charges to an abrupt end. Two of Margraves daughters, Madison and Lauren, had just testified about the abuse they has suffered at the hands of the doctor.
Nassar, a former US Olympic gymnastics team doctor, was sentenced to up to 175 years in prison last week after testimony from nearly 160 of his victims.
In handing down that sentence, Judge Rosemarie Aquilina told Nassar: "Sir, you do not deserve to walk outside of a prison ever again." The 54-year-old was already serving sixty years in prison for possession of child sex abuse images.
Victims were taken to be treated by him at Michigan State University, where he worked as a sports doctor between 1997 and 2016. At his current sentencing hearing this week, Judge Cunningham said the number of known victims had grown to 265.
Michigan police offered a public apology to a woman whose complaint against the child abuser was ignored in 2004. Brianne Randall-Gay was 17 years old when she reported Nassar, but police closed the case after he said he was using a medical technique.
Judge Janice Cunningham told the court today that upon the actions of Mr. Margraves that "I recognise that Mr Margraves had three daughters that he has had to watch go through the pain and the hurt. I can't imagine what it is like for a parent."