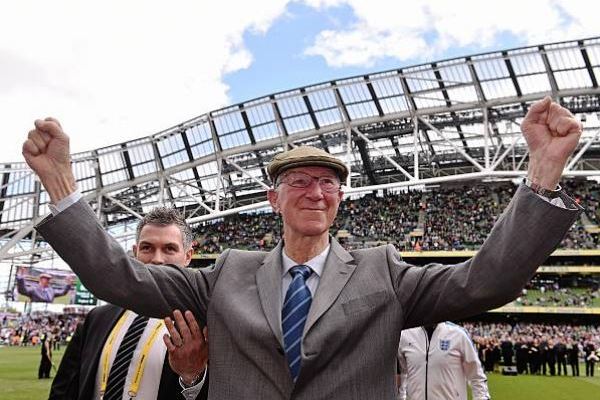 Virgin Media Television's Donate for Dementia fundraising and awareness week will conclude tonight with the highly anticipated broadcast of Finding Jack Charlton at 9pm on Virgin Media One.
Commissioned by VMTV and the BBC and supported by The Alzheimer Society of Ireland, the documentary has been described as "the definitive portrait of an extraordinary man; an English World Cup winning legend, who became an Irish hero."
Directed by Gabriel Clarke (Bobby Robson: More Than A Manager; Steve McQueen: The Man & Le Mans) and Pete Thomas (Take His Legs), and shot on location in Ireland and England, Finding Jack Charlton also details Jack's previously undocumented life with dementia.
It features contributions from Jack's family for the first time, including his wife Pat and son John. They are supported by major figures in football, music, film and politics. The documentary also features unseen archive footage, capturing behind the scenes with Jack and the Ireland team during the World Cup in 1990 and on the road to their qualification for the 1994 World Cup in the USA.
In addition to the broadcast of Finding Jack Charlton, Virgin Media One will air a special documentary with Six O'Clock Show presenter Martin King tonight at 8pm, We Need to Talk About Dementia. At 11.15pm, Jackie's Army speaks to legends of the Irish 1990 and 1994 World Cup campaigns to talk about the man who made it all possible, Jack Charlton.
Since last Monday 22nd March, Virgin Media Television viewers have helped raise €197,000 for The Alzheimer Society of Ireland vital dementia supports and services.
There are 64,000 people with dementia in Ireland and the number of people with the condition will more than double in the next 25 years to over 150,000 by 2045.
Virgin Media Television also commissioned Dublin-based artist Shane Gillen to create a portrait of this extraordinary Irish sporting legend and anyone who donates during the Donate for Dementia Week will be in with a chance of winning the stunning portrait.
Go to www.donatefordementia.ie or or ring (01) 5541680 and donate whatever you can.
For more information on Alzheimer supports and services during this challenging time, please contact The Alzheimer Society of Ireland National Helpline where you can now also book in a 1:1 session with a Dementia Nurse or Dementia Adviser.
The Helpline is open six days a week Monday to Friday 10am–5pm and Saturday 10am–4pm on 1800 341 341. Email at [email protected] or via Live Chat at www.alzheimer.ie