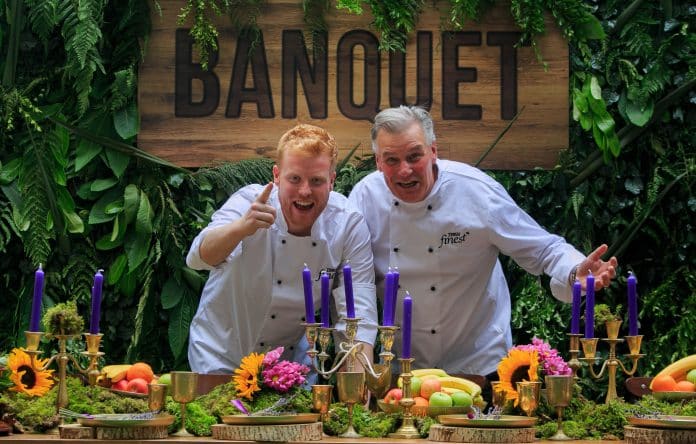 Derry Clarke and Mark Moriarty are feeding festival goers in the most fanciest way, while also raising much needed funds for Temple Street and Pieta House charities.
With 57,500 Picnickers set to descend on Stradbally Hall, Co. Laois for a weekend of music and arts, the 'Banquet at Electric Picnic' will offer a fine dining banquet experience at the three-day event using only Tesco ingredients.
Priced at €120, with tickets available via THIS LINK, the luscious line-up of food will consist of a starter of Irish smoked salmon or smoked cauliflower cigars, baked Orzo with chili prawn and fennel to start; BBQ West Cork dry-aged rib eye beef or soy glazed BBQ portobello mushroom mains; followed by salted lemon tart, pine nuts, frozen sorrel with Tuscan olive oil for dessert.
The gourmet gastronomic five course banquet which will also cater for vegetarians, with delectable choices.
Derry Clarke from l'Ecrivain says, "I am thrilled the Banquet is taking place again this year. It was a huge success last year, and I thoroughly enjoyed putting together the menu and meeting picnickers over the three days, we raised a lot of money for a charity that is very close to my heart – Pieta House. It's a funtastic way to have a gourmet dining experience in a festival setting. Bon Appetit."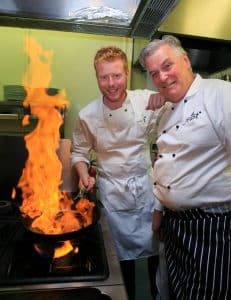 Seats are limited, with four sittings over the weekend, two on Saturday and Sunday at 1.00pm and 5.30pm with each sitting lasting approximately two hours.
The dress code for the 'Banquet at Electric Picnic' is Black Tie come Festival Fabulous – attire will be provided but guests are more than welcome to bring along their Sunday best.
Melvin Benn, Festival Director, Festival Republic, says,  'I am really looking forward to the Banquet this year, last year was such a success from the setting to the food to the money raised for charity. I am really proud that two of Ireland's top chefs – Michelin starred Derry Clarke of L'Ecrivain and Mark Moriarty of the Michelin starred restaurant The Greenhouse are involved and delighted to be able to offer five star fine dining to Picnickers. Also a big thanks to Tesco whose involvement with The Banquet makes it possible to raise the much needed funds for charity.
Keep up to date with all the EP festival news via: http://www.electricpicnic.ie/