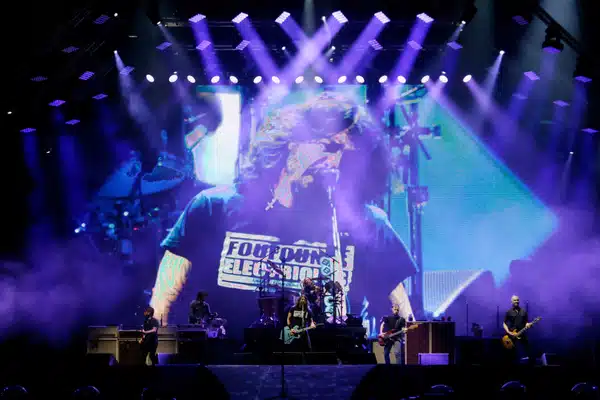 During their recent gig in Vegas, Foo Fighters brought KISS' Gene Simmons onto the stage.
The band's frontman Dave Grohl brought Simmons out onto stage at Park MGM's Dolby Live Theatre after spotting an audience member who strongly resembled the bassist.
Simmons then walked onto the stage wearing a facemask, handed Grohl a recept and Grohl left the stage. As he was leaving, Grohl shouted out to the crowd, "Can we just hear it one more time for Gene F*****G Simmons".  
He also revealed that he had posters of Gene Simmons on his bedroom wall when he was a child. Check this clip out below.
"too bad security turned me down"
Describing the footage himself, Foo Fighters' Dave Grohl wrote, "What better way to celebrate another year of Hanukkah Sessions than Chaim Witz and Stanley Eisen… two young lads from Queens that set the world (and thousands of stages) on FIRE as Gene Simmons and Paul Stanley of KISS!!!".
Commenting under this video, social media user unknownamus wrote, "Hey, this is the fake Gene Simmons saying thanks to everyone who tried to get me on stage! Too bad security turned me down. I legit through when Dave said 'Gene, get up here!' he was talking to me, but he meant the REAL DEAL! Fair trade in my book". 
Following the show, Dave Grohl and Greg Kurstin finished off their second annual Hannukkah sessions with a cover of KISS' "Rock and Roll All Nite".
For these sessions Grohl and Kurstin spent eight days covering songs from Jewish stars, one for each day of the Festival of Lights. 
On top of this, Foo Fighters teased fans with the first clip from their upcoming Studio 666 movie.  This film sees that Foo Fighters move to a haunted studio to record a new album. More on this report here.