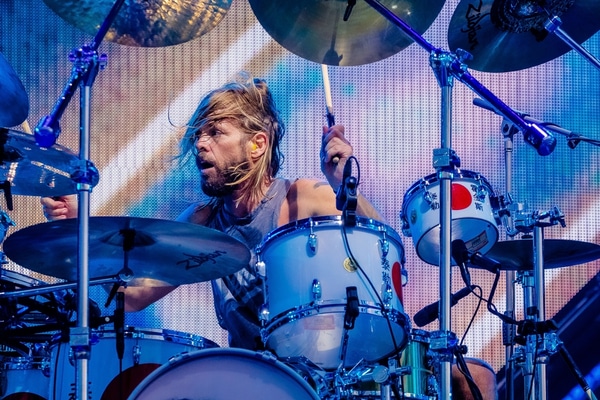 Foo Fighters' 'Greatest Hits' has re-entered the UK Top Five Albums Charts following the death of the band's drummer Taylor Hawkins.
Taylor Hawkins died last weekend at the age of 50. His death sent major shockwaves around the music world, with so many household names paying tribute to the late drummer, including Brian May, Gene Simmons and Paul Stanley.
"The Foo Fighters family is devastated by the tragic and untimely loss of our beloved Taylor Hawkins", Foo Fighters posted on social media.
They also added, "His musical spirit and infectious laughter will live on with all of us forever. Our hearts go out to his wife, children and family, and we ask that their privacy be treated with the utmost respect in this unimaginably difficult time".
'Greatest Hits'
The Official Charts Company have since reported that the sales and streaming of Foo Fighters' 'Greatest Hits' has increased, leading the album to re-enter the UK Top Five.
The album currently sits in fourth place. The record peaked at this position after its initial release.
'Greatest Hits' was released in 2009, between 'Echoes, Silence, Patience & Grace' (2007) and 'Wasting Light' (2011). It was also reported that the band's 2006 album 'Skin And Bones' is to re enter the UK Album Charts.
As for the singles chart top 100, Foo Fighters' tracks 'Best Of You' and 'The Pretender' have also re entered the chart in 100th and 95th places respectively. Meanwhile, 'Everlong' has reached number 58 in the charts.
Rush Pay Tribute To 'Musical Brother' Hawkins
Elsewhere, Rush have become the latest act to pay a special tribute to their 'musical brother' Hawkins.
"We are so very shocked and saddened to hear the devastating news of the sudden passing of our musical brother Taylor Hawkins", band members Alex Lifeson and Geddy Lee wrote.
"He was such an incredibly positive source of music, energy and love, and a true artist to his very core…there are simply no words to adequately express just how much he will be missed by all – including Alex, myself and the entire Rush family".
"Our hearts, love and sympathy go out to Taylor's family as well the Grohls, and the extended Foos family…", they wrote. More on this here.