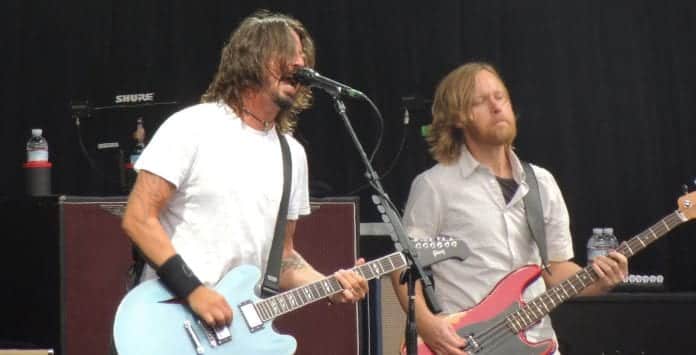 In July we were teased by Dave Grohl with the news that their upcoming album 'Concrete and Gold' would feature 'the biggest pop star in the world'.  
And now we know who that is. None other than 'Senorita' singer Justin Timberlake. Now, we're not sure that we'd class Timberlake as 'the biggest pop star in the world'. Lady Gaga, Madonna, Britney and a few others come to mind before the man who brought 'sexy' back.
In an interview with Rolling Stone, Grohl spoke about how the collaboration came around naturally, as the two were recording at the same studio, Los Angeles' EastWest studios.
"We'd drink whiskey in the parking lot," Grohl revealed. "He was really, really cool. Then the night before his last day, he says, 'Can I sing on your record? I don't want to push it, but – I just want to be able to tell my friends.'"
Grohl agreed and Timberlake ended up adding some "la la las" on one track. Grohl joked that Timberlake "nailed it". Adding, "I'm telling you – the guy's going somewhere." We think Grohl might be on to something there.
Grohl also spoke about the recording of the new album, "We've made the biggest sounding Foo Fighters song we've ever made. I think it's going to take people by surprise."
Timberlake isn't the only star contribution to the new record, with legend Paul McCarthy playing drums and the Kills' Alison Mosshart and Boyz II Mean singer Shawn Stockman contributing vocals.
Photo Credit:Daniel Hartwig