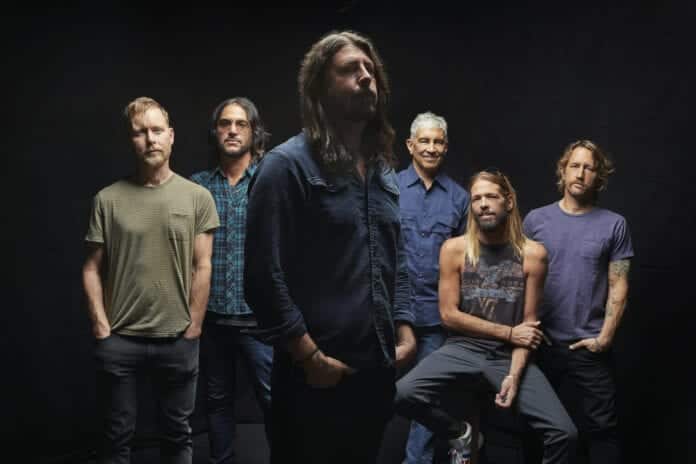 Hot on the heels of their tenth album release and a Rock & Roll Hall of Fame nomination, Foo Fighters' will host a special six-part series, "Foo Fighters Radio", starting on Saturday February 27th at 6pm (repeated Sunday night at 9pm) on Radio Nova.
During the series, Dave Grohl, Nate Mendel, Pat Smear, Taylor Hawkins, Chris Shiflett and Rami Jaffee will break out from the band and explore their personal inspirations, spotlight influential artists on their careers and play some of their biggest hits. In each episode you will also hear the lads chat to their rock star friends and reflect on the creative process behind the new album "Medicine At Midnight".
Dave Grohl and the Foos are eager to connect with Irish fans and said, "We're going to listen to some music. I'll tell you some stories… play you some songs that inspired me when I was young … kind of take you from the beginning all the way up to today."
In the first show, drummer Taylor Hawkins takes us inside the "Hawkes Nest" with guests Dave Navarro and Chris Chaney from Jane's Addiction. Taylor also plays hits from Pink Floyd, Alanis Morrisette, The Police and ELO.
Radio Nova CEO, Kevin Branigan said, "We thought having Bruce Springsteen host his own show was a coup, but Radio Nova has now become THE place the world's biggest artists come to take over the Irish airwaves. This is one hell of a radio show, full of huge hits and will give the Foo fans a chance hear all about the band's career directly from the members themselves."
Radio Nova broadcasts on FM to Dublin, Kildare, Meath and Wicklow, as well as nationally on the Nova App, www.nova.ie and the Irish Radio Player. "Foo Fighters Radio" will be available to listeners across Ireland on Nova's FM and digital platforms.
Catch "Foo Fighters Radio" Saturday nights at 6pm and Sunday nights at 9pm starting February 27th only on Radio Nova.
THE HAWK'S NEST (Taylor Hawkins) – February 27th
UH, OH, BASS (Nate Mendel) – March 6th
THE NEW OLD GUY SHOW (Rami Jaffee) – March 13th
SHIFTY'S GLAM ROCK SHOW (Chris Shiflett) – March 20th
DRUMMERS WHO DEEP DOWN WOULD RATHER BE THE LEAD SINGER
(Dave Grohl) – March 27th
50TH ANNIVERSARY OF ALICE COOPER'S "LOVE IT TO DEATH" ALBUM
(Pat Smear and Chris Shiflett) – April 3rd