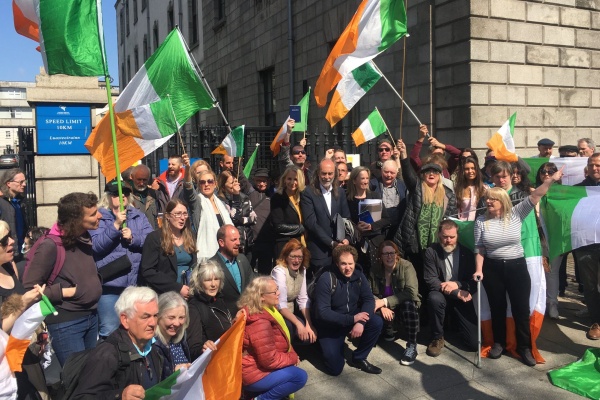 Gemma O'Doherty and John Waters claim the case made for introducing restrictions to stop the spread of Covid-19 is based on "fraudulent science".
The pair are appealing to the High Court to grant them a judicial review of the measures, as part of their attempt to have the emergency legislation quashed.
In her submission to the court, O'Doherty said the restrictions are comparable to living in "Nazi Germany".
Supporters of the pair gathered outside the Four Courts this afternoon as the duo addressed them ahead of their hearing.
Once again, streets were cordoned off and there was a large Garda presence. The numbers allowed into the small courtroom were also restricted.
They're seeking permission to bring a judicial review of the emergency laws introduced to combat Covid-19.
In opening their case, Mr. Waters said Irish citizens were under house arrest, and the restrictions were repugnant to people's constitutional rights.
Both raised question marks over death rates, and Ms. O'Doherty claimed the lockdown was based on "fraudulent science".
She also said it was harming people by denying them their right to sunlight and Vitamin D, and accused Gardaí of harassing people on the streets.
Mr. Waters claimed the restriction was unprecedented in our history and the response to the outbreak was disproportionate. The hearing will resume tomorrow morning.