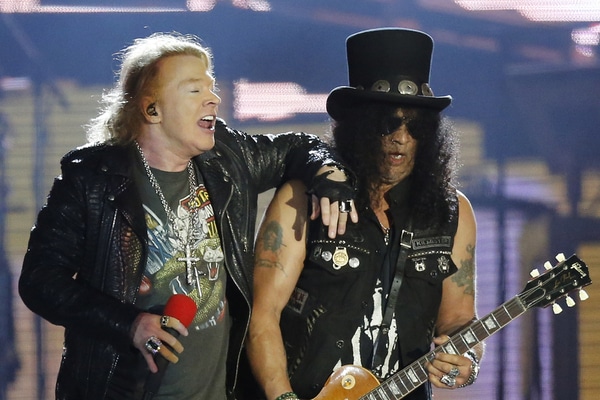 Guns N' Roses have released the studio version of their new track, titled Absurd.
The band premiered the track at a live show earlier this week.
Originally titled Silkworms, the track was initially penned in 2001 during the band's Chinese Democracy sessions. When that infamously delayed album finally arrived in 2008, Silkworms didn't make the cut.
Silkworms was originally written by keyboardist Dizzy Reed and the now departed multi-instrumentalist Chris Pittman.
"It was passed back and forth on our computers," Reed said of the track back in 2006. "We passed it back and forth and I had a couple riffs."
Guns N' Roses have gone back to Silkworms, given it a makeover and released it under a new name. As far back as 2008, Axl Rose had suggested the band had been playing around with the track.
Speaking during a chat with fans, Rose said Silkworms had been tinkered with and now had "a lot of guitars, lots of different drums and the chorus is gone."
The band first played Absurd during a performance at Boston's Fenway Park on August 3rd.
"Some of you might have heard this under another name, but this is really kind of absurd to try this," frontman Axl Rose joked as he introduced the track to the crowd. "Wasn't that funny? And they don't even know the joke yet. Okay, this is called 'Absurd'."
Absurd⚡️ pic.twitter.com/3SFxt6F2B2

— Guns N' Roses (@gunsnroses) August 5, 2021
According to the track's official credits it was produced by Axl Rose and Caram Costanzo. The pair previously collaborated to co-produce Chinese Democracy together. Curiously, Bryan Mantia aka "Brain" is credited as playing drums on the track. Brain was replaced by Frank Ferrer in 2006, though Brain played on all of Chinese Democracy's tracks.
The main difference between Silkworms and its new Absurd alter ego is that the electronic sounds of the original have been replaced by a more traditional hard rock sound, heavy on guitar solos and drums.
New Guns N' Roses material has been teased for a while now. Last year Duff McKagan's wife, Susan Holmes McKagan, claimed the band had been working hard on new tracks.
"I will say Guns N' Roses have been working fastidiously on some killer new stuff," she said. "I can't say much, but I've heard bits and bobs and it's pretty epic. I do want to spread good news, but not detailed news, I guess. Hopefully that'll put a spring in your step!"