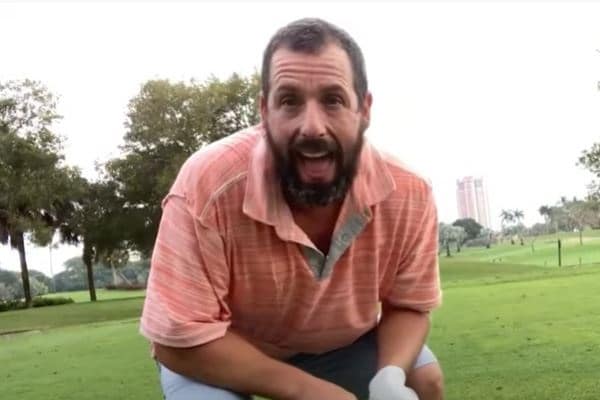 American actor, Adam Sandler took to social media to mark the 25th anniversary of Universal Pictures' 1996 hit Happy Gilmore. Sandler (54) shared a clip on Twitter, showing off his trademark run and swing, and call out an old arch-rival.
"Ok, it's been 25 years since I've done this…Let's see what happens….. I'm scared! Shooter McGavin, this is for you," said Sandler, as he channels his inner Happy place and blasts a drive down the green.
Happy's rival in the film, played by Christopher McDonald, hit back in typical Shooter McGavin style. Never one to be upstaged, even 25 years after trying to steal Happy's jacket, McDonald posted an in-character response as Shooter, bragging about the advantages of having a superior short game. Check out the clip below.
"Nice drive, Gilmore. 25 years, huh? Let's see if its Shooter's tour". McDonald proceeded to sink a putt in his living room and mocked Happy for his inabilities. "It's all about the short game," he declared. "Drive for show, putt for the dough!"
Staying in character, McDonald then invites Sandler to meet him on the 9th green at 9, for a "little secret of the pros". Shooter plays the same trick on Happy in the film, resulting in Gilmore left standing in a soaking wet suit.
Ben Stiller, in character as the wicked nursing homeowner who abuses Happy's grandma Frances Bay, tweeted to Sandler, ironically saying, "That's a beautiful swing Mr. Gilmore. Congrats on your anniversary, and being such a loving grandson. So happy to be a small part of taking good care of her during her 'golden years.'"
Happy Gilmore became a comedy reference point in pop culture when it was released in 1996. It has been quoted by many of its fans and remembered for its iconic theme track, Tuesday's Gone, by Lynyrd Skynyrd. Both sport and movie fans have been celebrating its legacy, with the PGA Tour sharing this clip of golf stars such as Jordan Spieth, Rory McIlroy and even singer Justin Timberlake taking part.