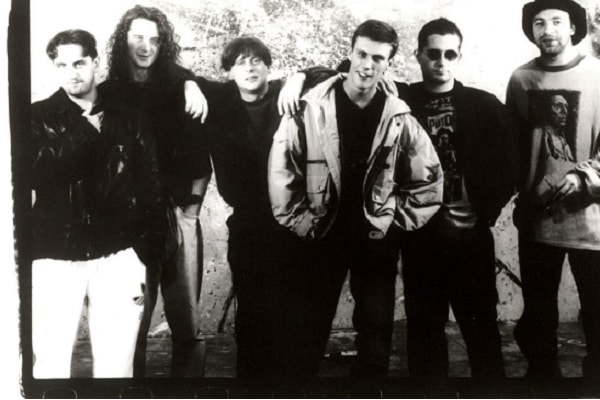 In honour of their bassist Paul Ryder, the Happy Mondays have released a new EP, 'Tart Tart'.
Having originally released this track as part of their 1987 album 'Squirrel And G Man', the band shared details of this three track EP, which also contains two previously unreleased versions of 'Tart Tart', recorded live.
These live covers come from a John Peel session on BBC Radio 1, recorded in 1989. The second recording was also produced in 1989. It was recorded during a live show in Sheffield University.
"This special release of 'Tart Tart' showcases the unique musical talent of our brother Paul Ryder who passed from this world … we will all miss you Horse", Paul Ryder's brother and Happy Mondays' vocalist Sean Ryder also said of this EP.
"He brought the funk and the rock n roll to Happy Mondays … love you long time R kid". 
Check this EP out for yourselves here.
Tributes Paid To "True pioneer and legend" – Paul Ryder
Earlier this month, Paul Ryder passed away aged 58. Tributes were paid to the band's co founder following his death.
"The Ryder family and Happy Mondays band members are deeply saddened and shocked to say that Paul Ryder passed away this morning", the Happy Mondays said in a statement."A true pioneer and legend. He will be forever missed". 
"We thank you for respecting the privacy of all concerned at this time. Long live his funk x". 
Stone Roses' singer Ian Brown led the tributes to him.
"REST IN PEACE PAUL RYDER A GREAT FRIEND A GREAT MUSICIAN A GREAT FELLA BIG LOVE TO AMELIA JACOB SONNY CHICO AND THE FAMILY AND BAND LOVE YA LONGTIME PABS X", he wrote.
"Sending much love to the Happy Mondays family – Paul Ryder was a pioneer and an inspiration to all of us that followed. He played on so many era defining tracks. Listening to Bummed right now. Safe travels x x", Tim Burgess added.