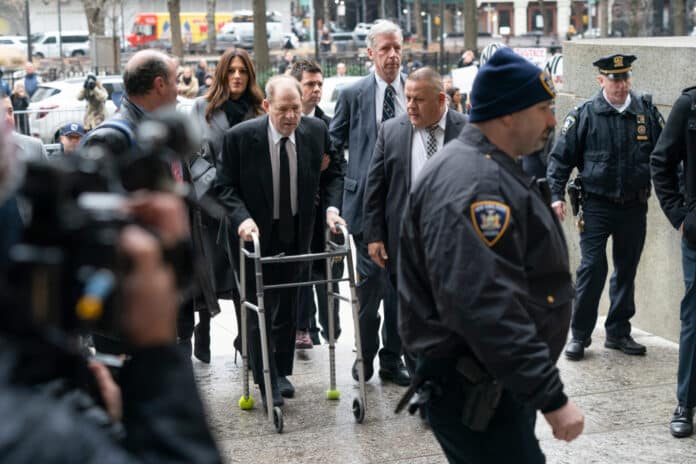 Harvey Weinstein is unwell and being "closely monitored" at the prison where he is being held according to representatives of the disgraced Hollywood producer.
The representatives made the statement after American outlet, TMZ reported that Weinstein is very sick and possibly has Covid-19. Weinstein's representatives said they could "neither confirm or deny" that he has tested positive for coronavirus.
TMZ claim they have spoken with a law enforcement source who has direct knowledge on the situation and they claim Weinstein is doing "very poorly" with conditions that are symptoms of the coronavirus including a high fever.
The news site also claims that Weinstein was tested for coronavirus on Tuesday morning and doctors are waiting on the results. The doctors were said to be concerned about the situation and placed Weinstein into isolation for 72 hours.
If his test is positive, he will be placed into the prison hospital. Given his age, weight and pre existing conditions including high blood pressure and heart issues, the coronavirus could be deadly for the former producer.
Weinstein is currently being held at Wende Correctional Facility. He is serving a 23 year prison sentence. The disgraced producer was found guilty on rape and sexual assault last February.
He was found guilt of committing first-degree criminal sexual act against one woman and third degree rape of another woman in the trial that was held in New York. Last month, he was charged with a further six counts of sexual assault bringing his total to 11 counts of sexual assault he is facing in the Los Angeles county.
A spokesperson for Weinstein said he had "always maintained that every one of his physical encounters throughout his entire life have been consensual" before adding "That hasn't changed".
In 2017, allegations of sexual assault by Weinstein on many women in the entertainment industry made headlines around the world. It sparked the #metoo movement that highlighted the many incidents of sexual assault many women have sadly endured.
After the widespread exposure of Weinstein's horrible actions, actress Alyssa Milano wrote on Twitter in 2017 "If you've been sexually harassed or assaulted write 'me too' as a reply to this tweet."
If you've been sexually harassed or assaulted write 'me too' as a reply to this tweet. pic.twitter.com/k2oeCiUf9n

— Alyssa Milano (@Alyssa_Milano) October 15, 2017
Due to his ongoing health issues and the pandemic, a date has yet to be set for a trial for the new charges Weinstein faces.