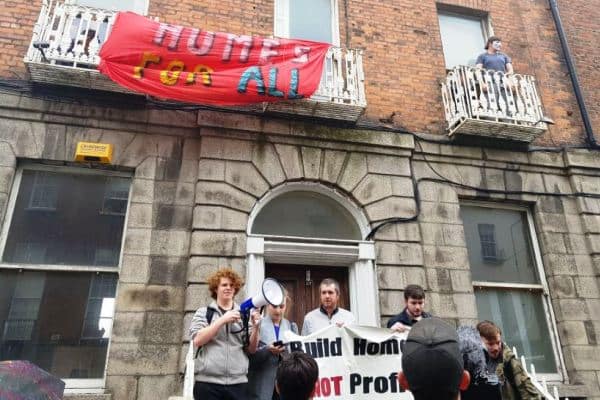 Activists in Dublin have swooped again to procure a second vacant house in the north inner city. The property on North Frederick Street is a short distance away from where a 10-day sit-in, ended this morning by order of the High Court.
The group holding a sit-in at a house on Summerhill Parade left the building as they were legally obliged to. The owner of the vacant house took them to court yesterday, accusing them of trespassing.
The High Court issued an injunction to have them removed. In a statement, activists behind the new effort said they want to continue highlighting the need for organised action against the housing crisis.
They said that houses should not be allowed sit vacant "in the middle of the most acute housing crisis since the foundation of the state".
The statement added: "The housing crisis is not a natural disaster; we do not need to accept that this is simply the way it is. But things won't get better on their own – action is needed, by people and for people."
By megaphone from the steps of 34, North frederick Street, they read from a statement:
"The government is not about to change this housing crisis – the people are. Summerhill was only the tip of the iceberg. We're ready to keep going," the spokesperson said.
With that in mind, we have decided to take 34 North Frederick Street, to continue to highlight the need for organised action against the crisis.
"The housing crisis is not a natural disaster. We do not need to accept that this is simply the way it is. But things won't get better on their own – action is needed, by people and for people."