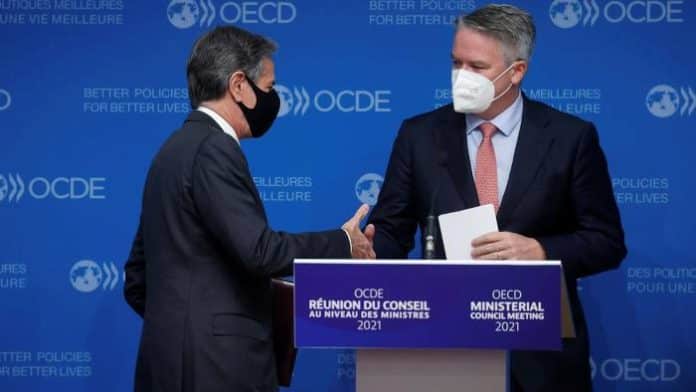 Ireland's place in the OECD's new international agreement on corporate tax rules became apparent yesterday and on Friday its was announced that 136 countries have signed up to the deal in total.
In a statement, the OECD says 'major reform' of the international tax system will ensure that multinationals will be subject to a minimum 15% tax rate from 2023.
Of the 140 countries which engaged in the OECD process, Kenya, Nigeria, Parkistan and Sri Lanka have opted to remain outside the agreement.
A statement says countries will collect an extra $150Bn in new tax revenues annually, as a result of the new rules.
Speaking at a press conference yesterday, The Minister for Finance Pascal Donohoe said the agreement involves "far-reaching reforms to the global taxation framework".
The Department of Finance is guiding that the impact on corporate tax receipts will be in the order of €800m to €2 billion a year.
Opposition parties have supported the decision to sign up to the OECD tax deal.
Sinn Féin said it accepted the merits of the process and Ireland could not be an outlier or labelled a tax haven.
Party leader Mary Lou McDonald said there must be an absolute assurance that the 12.5% rate will still apply to SMEs that are the backbone of the Irish economy.
People Before Profit TD Richard Boyd Barrett said that it was right that "staggeringly profitable corporations that have been involved in very aggressive tax avoidance strategies should pay a little more in tax".