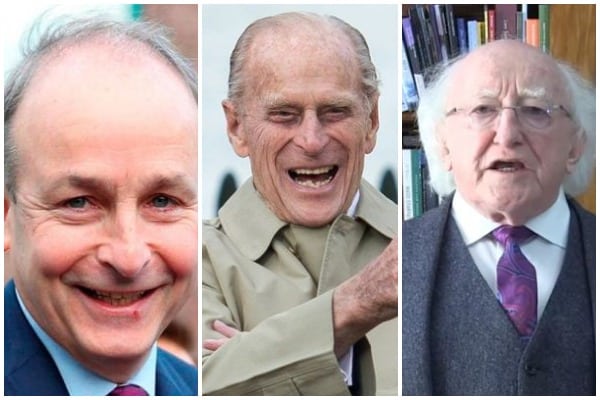 Ireland's political leaders have expressed their sadness at the news of the death of the Duke of Edinburgh, and paid tribute to his unstinting service to duty and monarchy.
President Higgins says he learnt with great sadness of Prince Philip's death. He says the 99-year-old served the British people with an unfailing commitment and devotion to duty.
Michael D. Higgins recalled how welcome the Duke made the President and his wife Sabina feel on their first visit by an Irish Head of State to the UK in 2014.
"I have learnt with great sadness of the death of HRH Prince Philip, Duke of Edinburgh.
On behalf of the people of Ireland, I wish to convey my condolences to Her Majesty Queen Elizabeth, her children, her extended family and the people of the United Kingdom.
For over sixty years, and as husband to Britain's longest serving monarch, Prince Philip served the British people with an unfailing commitment and devotion to duty. In the course of his long service he frequently brought an air of informality to otherwise formal occasions. His distinctive presence and unique sense of humour put participants at ease and always engaged those who encountered him.
Prince Philip was a steadfast support to Queen Elizabeth II. He accompanied the Queen on her many visits to Northern Ireland and also on her historic State Visit to Ireland in 2011. I recall with a special appreciation how welcome he made Sabina and I feel in 2014, when I was making the first State Visit by an Irish Head of State to the United Kingdom in 2014. My hope is that these visits in 2011 and 2014, which he shared, will continue to be symbols of what we share as neighbours in friendship, peace and a sustainable future.
Prince Philip an active supporter of many charities and worthwhile causes, was far-seeing in being an early advocate for protecting the environment. Likewise the Duke of Edinburgh Awards provided for many generations of young people and those of diverse backgrounds a very effective focus for citizen engagement. I was very pleased when his scheme, the Duke of Edinburgh Award, and our own Gaisce, the President's Award, were able to co-operate in the sharing and recognition of awards in Northern Ireland and elsewhere.
Ar dheis Dé go raibh a anam dílis."
Taoiseach Micheál Martin also paid tribute to His Royal Highness after hearing of his death today.
He acknowledged his considerable achievements and his dedication, while paying tribute to his important role in Queen Elizabeth's landmark visit to Ireland in 2011.
"My thoughts and prayers are with HRH Queen Elizabeth and her family today, on the occasion of the passing of His Royal Highness The Prince Philip, Duke of Edinburgh.
Ireland remembers the great success of the State Visit to Ireland in 2011 by Queen Elizabeth and Prince Philip, a historic and important occasion which was a key moment in our bilateral relations. This was followed in 2014 by the State Visit to the United Kingdom by the President and Mrs Higgins, when they were hosted so generously in Windsor Castle and across Britain.
The commitment of the Royal Family to Irish-British relations is an important part of the work we do together – and today we pay tribute to Prince Philip's own important contribution."