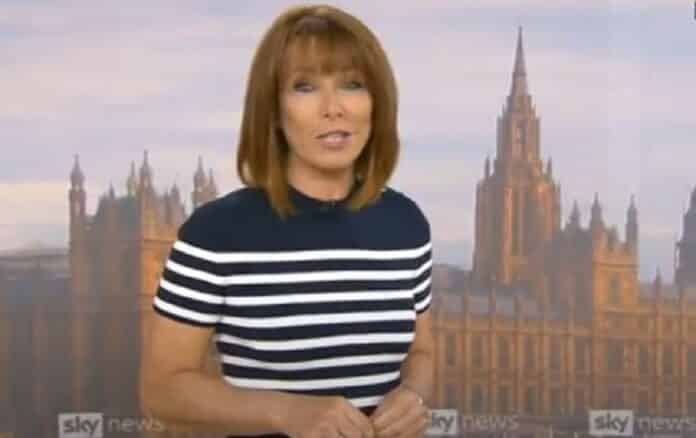 The Sky News presenter Kay Burley has been dropped for award consideration after she was caught breaking Covid-19 regulations.
Burley is arguably Sky's most profile presenter. Earlier this week it came to light that Burley, Beth Rigby and Inzamam Rashid who also work for Sky News broke Covid regulations.
Rigby was the only Sky employee not to attend Burley's after party which explains why she has been on TV this week, while Burley and Rashid have not been on air since the news broke. It meant that Burley was not able to present the news when the first vaccine was administered.
Now it has been revealed that Burley has been dropped for a prestigious TV award. It is understood that she has been dropped as an entry for The Royal Television Society's Journalism award, which Sky News have won channel of the year for the last three years in a row.
Under tier-2 restrictions in the UK, indoor gatherings are banned except among those who live together or have formed a support bubble. Groups of up to six can socialise outside a hospitality venue if having drinks with a substantial meal.
Kay Burley had two tables, one with six people and another with four people at a London restaurant last weekend. At 11pm on her way home, she went into another restaurant to use the bathroom. She then had some guests back to her home for an after party. This is all forbidden under tier-2.
According to The Guardian, sources at Sky News were extremely unimpressed with the tweets from Burley in where she apologised for her actions.
I had been waiting for a taxi at 11pm to get home. Desperate for the loo I briefly popped into another restaurant to spend a penny. I can only apologise 2/2

— Kay Burley (@KayBurley) December 7, 2020
In a now deleted tweet, Burley announced she is heading to her "beloved Africa to sit with lions". She also mentioned that lions kill for "food not sport".
Sources close to Sky News have told The Guardian "It was just such a massive own goal, very 'one rule for us'".
Another source said "It's fair to say that the overwhelming reaction from those I've spoken to is 'what the shuddering fuck?'"
As Kay Burley is now under investigation at Sky, it remains to be seen what role she will have in the future with Sky. She has, on many occasions grilled politicians and public representatives for their wrong doings. How will Burley be able to ask these types of questions now?