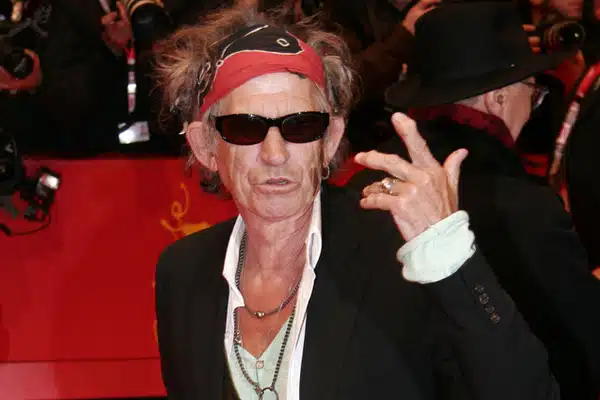 Keith Richards has revealed the technique he used to quit his smoking habit.
The 78-year-old Rolling Stones guitarist quit smoking two years ago.
Speaking on US TV, Richards opened up about how he kicked his long time habit.
"It's funny, I don't think about it much anymore," he said. "I got a few [nicotine] patches for a few weeks. Sometimes, you know, a bell rings, something inside says, 'Hey, pal – enough!' So I just put the hammer on it."
"Luckily I don't miss it," he added. "And that makes me feel good."
Richards said he began to feel the positive effects of quitting smoking while rehearsing last August, when he realized he "had 10 times more wind!"
The guitarist had been a smoker for 55 years and was rarely seen without a cigarette in his hand, even while performing on stage.
Richards had previously said he found quitting heroin easier than giving up cigarettes.
"Quitting heroin is like hell, but it's a short hell," he said. "Cigarettes are just always there, and you've always done it. I just pick 'em up and light 'em up without thinking about it."
Richards also opened up about the death of beloved Rolling Stones drummer Charlie Watts, claiming the band only learned of the severity of his condition a couple of weeks before his passing.
"I think he'd been trying to keep it under the wraps for a while last year, so that it came, yeah, as quite a shock," Richards said. "He had had a round with cancer a year or two before. And he beat that one. He just got hit with a double-whammy, bless his soul."
He added that "for a brief moment" the band considered cancelling their tour.
"I think Charlie wanted us to go on the road; he wanted the tour to happen," he said. "That's my feeling, the last time I spoke to him."
Richards admitted it was strange to hit the road without Watts.
"Yeah, that is strange, yes, to turn suddenly and you know, after all these years, you expect that face there," he said.
Richards was asked if the Stones might follow the lead of other iconic artists in selling their back catalogue.
"Mick and I have not spoken about it on a serious level," he said. "I don't know if we're ready to sell our catalog. Might drag it out a bit! Put some more stuff in it!"
Earlier this week the Rolling Stones announced they would be embarking on a 60th anniversary European tour. No Irish date has been announced however.
View this post on Instagram