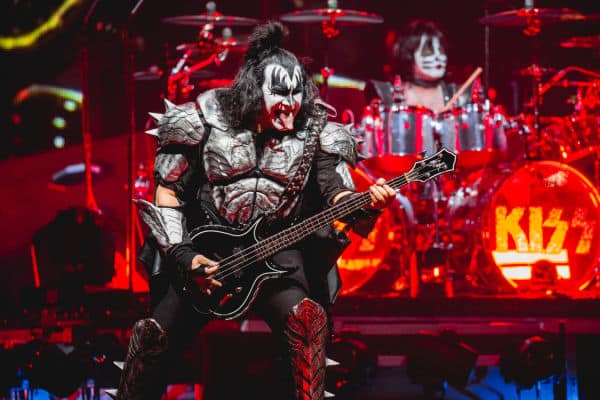 KISS co founder and lead vocalist Paul Stanley has quashed rumours that the band's name is actually a satanic acronym.
It had been reported that the band's name was an acronym for 'Knights in Satan's Service'.
This is a long standing rumour which has since been denied by the band themselves.
"We're not that smart"
Speaking on the Howard Stern Show on Sirius XM, Kiss' Paul Stanley insisted that the band picked their name as it "transcended the English language", adding "We're smart, but we're not that smart". 
Stanley also explained how himself and Gene Simmons looked at several names, before choosing KISS.
"To me, Kiss was a word that transcended the English language. You could go almost anywhere in the world and say the word Kiss and people would go, 'Oh, I've heard of them", he added.
"It's like calling a band water. And a kiss of death, a kiss of passion – it just seemed to incorporate all the elements of what we were doing".
Stanley also revealed that the band even considered naming themselves 'F**k'.
"We were talking about it … first record could be It, the second record could be You, but it wasn't serious", he explained.
Back in January, Paul Stanley also insisted that his band boast the best fans in the world, and that everybody was aware of this fact.
"When other bands say their fans are the best in the world, they only say that because they know they're not", Stanley said. "These are the best fans, and always have been. That's why it's called the Kiss Army, because it started as a volunteer army". 
KISS Reveal Final Show Dates
Last December, KISS also confirmed dates for their final ever tour before they retire.
The band have called these shows an "ultimate celebration for those who've seen us and a last chance for those who haven't.
Check out these tour dates below.
JUNE
03 – Plymouth, Home Park
05 – Birmingham, Resorts World Arena
06 – Newcastle, Utilita Arena
JULY
05 – London, The O2
07 – Manchester, AO Arena
08 – Glasgow, OVO Hydro
Get presale access to THE FINAL 50 SHOWS through the new merch collection! #EndOfTheRoadTour https://t.co/G2cIkGsakS pic.twitter.com/xqIyBFu0VL

— KISS (@kiss) March 3, 2023