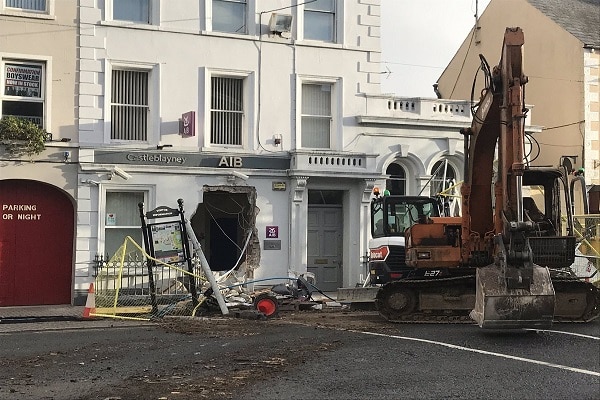 The leader of a gang reported to be connected to the murder of a Garda is being investigated for a €70,000 ATM heist.
According to the Belfast Telegraph, roughly €50,000 in damage was caused when an ATM machine was ripped outan AIB Bank with a digger.
The digger had been stolen just after 3am in Co Monaghan yesterday. Gardai maintain that numerous different gangs from across the border have been connected to the recent heists.
The scene of the ATM theft in Castleblayney @rtenews pic.twitter.com/KnPMHXLYMw

— Sinéad Hussey (@SineadHus) April 3, 2019
A top source revealed last night that detectives were investigating the leader of a Armagh/Louth gang.
That gang leader is a main suspect in the murder of Garda Adrian Donohoe. However the leader has never been arrested in relation to the crime.
The source told The Telegraph the details of the investigation:
"He is being looked at very much in relation to the Co Monaghan crime, but his crew are suspected of at least one of the other ATM heists that have happened across the border, and in all probability a few more as well."