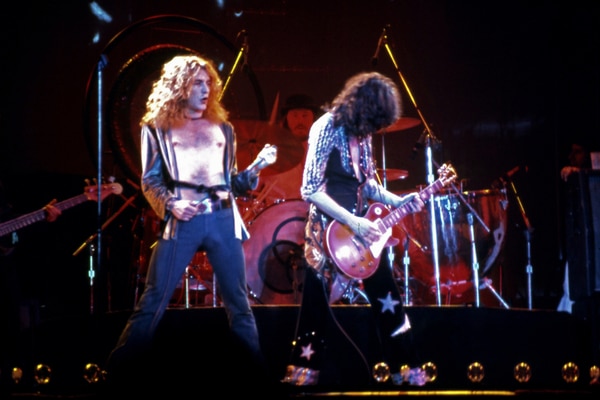 Led Zeppelin is the latest classic rock act to join Tik Tok.
Users of the video streaming site can now soundtrack their videos with any song from Zeppelin's back catalogue, which includes over 100 studio recordings and live performances. Fans have been promised archive live performances and Zeppelin themed artwork and graphics.
Led Zeppelin opened their Tik Tok account by posting an eight second clip featuring their logo accompanied by a snippet of their 1970 classic Immigrant Song. At time of writing the clip has been viewed close to five million times.
Zeppelin's addition to Tik Tok follows the lead of The Beatles, who recently added 36 of their classic songs to the app.
Tik Tok has experienced a meteoric rise. Last month it passed YouTube for average watch time among UK and US users. However, with 700 million users, Tik Tok still has a long way to go to catch up with YouTube's over two billion users.
Led Zeppelin's Jimmy Page recently said it was a mistake for the band to hire Phil Collins as their drummer for Live Aid.
Page reunited with Robert Plant and John Paul Jones for the iconic 1985 charity concert, but with John Bonham having passed away in 1980, a replacement drummer was required for the one-off show.
In an interview with The Times, Page revealed that the band had just two hours to rehearse for their Live Aid appearance, which saw them perform Rock and Roll, Whole Lotta Love and Stairway to Heaven.
"The drummer couldn't get the beginning of Rock And Roll," Page said. "So we were in real trouble with that."
The feeling would seem to be mutual. In an interview last year, Collins spoke of his cameo with Led Zeppelin in unflattering terms.
"If I could have walked off, I would have done, 'cause I wasn't needed and I felt like a spare part," Collins said.
Collins admitted that his preparation for the show largely consisted of listening to Led Zeppelin's songs while on the flight to Philadelphia, where the US Live Aid was staged.
"I didn't rehearse when I got there, but I listened to Stairway to Heaven on Concorde," he said. "I arrived and went to the caravans, and Robert said: 'Jimmy Page is belligerent'."
Led Zeppelin fans are eagerly awaiting the release of Becoming Led Zeppelin, a new documentary on the band which recently premiered at the Venice Film Festival.
"It's everything about the music, and what made the music tick," Page said of the film.
A release date has yet to be announced but you can watch the first clip below.