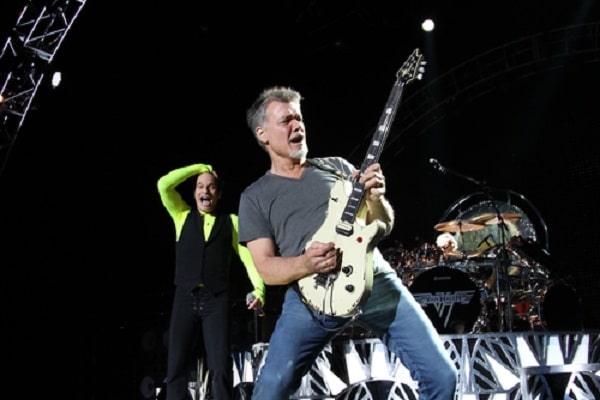 Legendary guitarist, Eddie Van Halen has sadly passed away.
It is with great sadness that we announce to our readers that the Van Halen founder has lost his ten-year battle with throat cancer. TMZ report that his health is said to have deteriorated rapidly over the last 72 hours. Doctors discovered that his cancer had spread to other organs, including his brain.
Eddie developed cancer from cigarette smoking but, he also claimed it was from carrying a metal guitar plek in his mouth. This was later claimed to be untrue by professional doctors. Copper and brass, the two metals in the guitarist's picks, have not been associated with an increased risk for cancer.
Over the past five years, Eddie had been flying back and forth from America to Germany for radiation treatment. A third of his tongue was removed during surgery in 2000. The disease returned after being reportedly cancer free in 2002. Eddie continued to perform regularly to fans but kept his illness a secret for a number of years.
The former 'Jump' singer enjoyed great success with rock band Van Halen, ever since the late seventies. They had massive hits which included 'Panama', 'Hot For The Teacher' and 'Running With The Devil' and twelve albums. Upon its release in 1978, the band's self-titled debut album reached Number 19 on the Billboard pop music charts and would go on to sell over 10 million copies in the United States.
Eddie also enjoyed some solo work, throughout his career. He sang backing vocals and played guitar on Brian May's 1983 album, Star Fleet Project. He played bass guitar for Sammy Hagar's solo album, I Never Said Goodbye, providing a guitar solo on the track "Eagles Fly". Eddie also created one of the best solos ever on the Michael Jackson hit, 'Beat It'. It took him one take!
Tributes and condolences poured in for the late guitarist. Founding member of Black Sabbath, Geezer Butler, Gene Simmons, Flea from Red Hot Chili Peppers and many more, all paid their on their social medial platforms.
Edward Lodewijk Van Halen, rest in peace. January 26, 1955 – October 6, 2020.