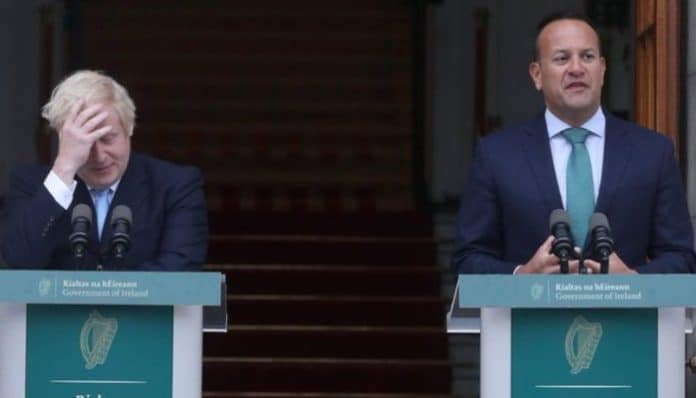 An Taoiseach Leo Varadkar has delivered a devastating speech about Brexit while standing next to Boris Johnson.
A less than usually rambunctious Johnson claims he has an abundance of proposals to end the Brexit impasse but Taoiseach Leo Varadkar says he hasn't seen any.
The two leaders met in Government Buildings this morning with both saying they want to see a deal at next month's EU summit.
Leo Varadkar and Boris Johnson met for around an hour this morning. They gave a press conference beforehand – with Leo Varadkar stressing the importance of the backstop that Boris Johnson wants axed.
Johnson though claims he does have plans and also said he believes, despite the challenges, a deal can be done, but didn't provide any clear road map for how to overcome them.
However a calm composed Taoiseach then warned the Prime Minister that there can be no clean break when it comes to Brexit, whenever it occurs.
Speaking to reporters as the two leaders met for the first time at Government Buildings, Mr Varadkar made clear that a no-deal Brexit has profound consequences for Ireland.
Standing next to Johnson, Varadkar said:' 'The story of Brexit won't end if the UK leaves the EU on October 31 or January 31. There is no such thing as a clean break or just getting it done. Rather, we'll just move on to a new phase.
If there is no-deal it will cause severe disruption for Irish and British people alike but no so much on the continent.
Whatever happens, we'll just have to get back to the negotiating table quickly and when we do the first things on the agenda will be citizen's rights, the financial settlement and the Irish backstop, all issues that we had resolved in the withdrawal agreement with your predecessor, an agreement made in good faith by 28 governments.
If there is a deal and I believe that is possible we'll enter talks of a future trade relationship between the EU and the UK. It's going to be very tough. We'll have to deal with issues like tariffs, fishing rights, product standards and state aide and it will have to be approved by 31 parliaments.
Prime minister agreeing FTA's with the EU and US and securing their ratification in three years is going to a Herculean task for you but we do want to be your friend and your ally, your Athena in doing so and I think the manner in which you leave the European Union will determine that."
BREAKING: Boris Johnson gets Brexit update from Irish PM Leo Varadkar in Dublin. pic.twitter.com/uETQvQDXHy

— The Poke (@ThePoke) September 9, 2019
https://twitter.com/BorisJohnson_MP/status/1171011420756021248
https://twitter.com/davemacladd/status/1170995754359500800
Johnson's insulting ramblings to our country and Leo Varadkar is too much. The arrogance and ignorance standing there speaking these words: "I know to perfectly frank, that Brexit was not a problem, that Ireland wished for…but if you just strip away the politics of the border". pic.twitter.com/dM6GBenaiR

— Dr. Jennifer Cassidy (@OxfordDiplomat) September 9, 2019