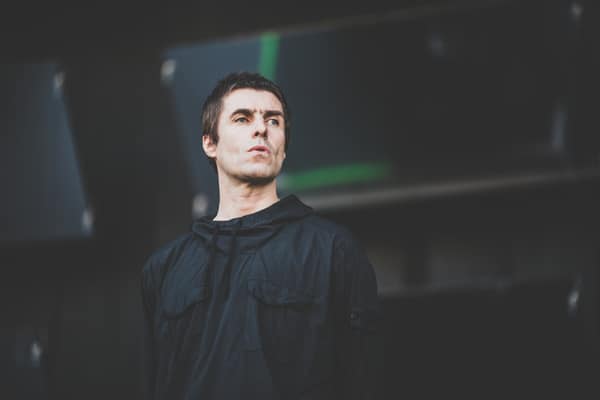 Liam Gallagher took the opportunity to pay tribute to the late Rolling Stones drummer Charlie Watts during his Leeds festival performance.
The Friday night headliner dedicated a rendition of Oasis's Live Forever to the late musician.
"He's probably having a great time up there somewhere," Gallagher told the crowd.
Images of Watts appeared on a giant screen behind Gallagher as he and his band performed the song.
Liam Gallagher dedicated Live Forever to Rolling Stones drummer Charlie Watts.

"He's probably having a great time up there somewhere." pic.twitter.com/igt30J5baD

— Oasis Mania Fanpage (@oasismania_uk) August 28, 2021
The ex-Oasis frontman's tribute is one of many that have been paid to Watts since his shock passing rocked the music world last week.
Watts' Rolling Stones bandmates shared a video tribute on social media on Friday. Soundtracked by their song If You Can't Rock Me, the two-minute video feature archival footage of Watts performing on stage and in the studio. If You Can't Rock Me was likely chosen for its lyric "The drummer thinks that he is dynamite, oh yeah."
— The Rolling Stones (@RollingStones) August 27, 2021
Keith Richards shared a photo of Watts' drum kit with a "Closed" sign hanging from it.
— Keith Richards (@officialKeef) August 24, 2021
Metallica's Lars Ulrich said Watts' passing "hits hard on many levels."
"Obviously, as a Stones fan, it's sort of the end of at least an era within that band, because he was the only drummer that ever recorded with them," Ulrich said. "He was such a significant part of their sound, and an underrated part of their sound. In a band where the spotlight would go to especially Mick and Keith, a lot of people truly didn't understand how valuable he was. And from that side, as a Stones fan, it's a great loss."
The Go-Gos drummer Gina Schock called Watts her "hero" in a post on Instagram. "His playing was rock-solid, elegant, and fluid," Schock wrote. "He cut straight to the heart of the song. No bullshit, just slamming it home with machine-like precision."
Drummer/producer Questlove highlighted Watts' subtlety. "Because Charlie did less, that made him more," he said.
The Rolling Stones confirmed that their US tour would proceed amid speculation that Watts' passing might postpone the tour.
"The Rolling Stones' tour dates are moving ahead as planned," promoter Concerts West confirmed in a statement.
The No Filter tour was originally scheduled for 2020 but postponed due to the pandemic. Earlier this month the band announced that drummer Steve Jordan would be filling in for Watts, who was recovering from a medical procedure at the time.